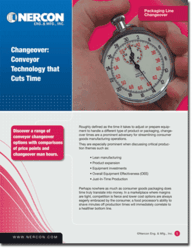 Oshkosh, Wisconsin (PRWEB) August 09, 2012
The new white paper, "Packaging Line Changeover: Conveyor Technology that Cuts Time," evaluates various levels of adjustable and automatic guide rail systems. Published by Nercon Eng. & Mfg., Inc., the editorial provides an analysis on the purchase cost, changeover time and production time gained for a range of changeover solutions.
Plant, operations and manufacturing managers who are responsible for multiple SKU packaging lines will benefit from reading the white paper. Improvements in packaging line changeover times also increase overall equipment effectiveness and just-in-time production efficiencies.
The white paper is available for download at http://www.nercon.com/Changeover.pdf.
Nercon provides specially engineered conveyor changeover solutions to food and consumer goods manufacturers by examining current changeover times and processes, production goals, capabilities of packaging machines and the number of SKUs and package sizes that will be run on the line. For more information about Nercon Eng. & Mfg., Inc., visit http://www.nercon.com.