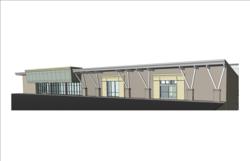 Atlanta, GA (PRWEB) August 10, 2012
Atlanta-based investment firm, NitNeil Partners is pleased to announce the acquisition of the former A.C. White building on Edgewood Avenue in Atlanta's Inman Park neighborhood.NitNeil Partners and Cartel Properties plan to co-develop the .86 acre site to deliver 52,961 square-feet of climate controlled self-storage and active-use space with access off both Edgewood Avenue and Airline Street. The development involves converting the existing two-level building and the construction of a four-story building at the rear of the property and is expected to be completed in March 2013. Upon completion the property will operate under The Storage Neighbor brand. "The current renaissance of the Edgewood corridor is one of the most significant things happening in all of Atlanta and NitNeil Partners is very excited to be a part of it" said Nitesh Sapra, Principal of NitNeil Partners. "This is an opportunity to take a building that has traditionally been an eyesore and adaptively reuse it in a manner that will honor its history and character while providing a service to the community."
ABOUT NITNEIL PARTNERS
NitNeil Partners is a regional investment firm that specializes in the acquisition, development and management of commercial real estate. With a conservative approach to growth that emphasizes long-term capital appreciation over short-term profitability, NitNeil Partners boasts a steady stream of income-producing real estate managed by a lean, efficient organization. With more than 600,000 square feet of self-storage space currently under management, NitNeil Partners has emerged as an industry leader in the Southeast and is currently ranked as one of the country's Top 100 Self Storage Operators by Inside Self Storage. More information on NitNeil Partners can be found at their website, http://www.nitneilpartners.com. For information regarding The Storage Neighbor, please visit http://www.storageneighbor.com.
ABOUT CARTEL PROPERTIES
Cartel Properties was established as a real estate company in 1979. In the years since, Cartel Properties has undergone a remarkable evolution, growing to a 370 person-strong real estate and restaurant company with properties throughout Atlanta and surrounding areas. More information on Cartel Properties can be found at their website, http://www.cartelproperties.com.