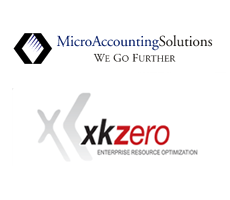 "It's a perfect marriage of two highly skilled and specialized shops combining to form a Sage Software VAR dream team.", said Bill Harris.
Rosemont, Illinois (PRWEB) August 09, 2012
xkzero, a leading Chicago-based Sage ERP business partner and custom software / application developer, and MicroAccounting Solutions, a renowned Sage ERP business partner based in Dallas, TX, announced today that they are rejoining to form a new Sage ERP VAR entity. The combined organization creates a world-class service and support group, and one of the largest Sage Select resellers in the United States. Both the xkzero and MicroAccounting Solutions names will be used going forward. MicroAccounting Solutions will continue to focus on the traditional Value Added Reseller practice based in Dallas and Chicago, reintroducing that name to the Chicago-based clients. The xkzero brand will be used for programming and application development nationwide. The merger will be effective September 1, 2012.
xkzero is the publisher of powerful and popular Sage ERP enhancement applications and custom modifications. xkzero specializes in a full range of programming services and languages including Microsoft SQL Server, Microsoft.NET based languages such as ASP.NET, VB.NET, C #.NET, HTML programming, Javascript, VBScript, Java programming, iOS development for iPhone, iPad and iPod Touch, application development for Windows Mobile devices, creating integrated solutions utilizing XML Web Services, as well as, deep experience with core Sage ERP solutions including Sage 100 ERP (MAS 90/MAS 200) and Sage 500 ERP (MAS 500), where they have developed hundreds of custom enhancements.
xkzero brings depth of experience in process manufacturing, advanced manufacturing, and distribution consulting and has become a leading resource for Sage 500 ERP (MAS 500) and Sage X3 ERP, Sage Software's next generation ERP system.
xkzero will offer a complete range of programming and development services for all supported Sage ERP solutions and complimentary applications and technologies.
MicroAccounting Solutions is a renowned consulting organization which operates world-class help desk, project management, and strategic consulting groups.
MicroAccounting will offer a complete range of Sage ERP Software services including consulting, implementation, training, custom programming, ongoing technical support, upgrades, and sales. The combined group currently has expertise in Sage 100 ERP (MAS 90/200), Sage 500 ERP (MAS 500), and Sage ERP X3.
In addition to the core ERP solutions, MicroAccounting offers a complete range of complementary solutions including Sage HRMS, Sage FAS, Sage CRM, Sage Intelligence, Alerts and Workflow, and document management solutions.
Bill Harris, co-founder of MicroAccounting Solutions, will serve as President of the overarching organization. "Having partnered with xkzero for many years, this is a natural pairing of the two premier organizations serving Sage ERP users across the country. xkzero's staff personifies nimble, relentlessly creative, people-first approach, " commented Harris."The MicroAccounting team has provided the backbone of support and service for North Texas and surrounding area companies using Sage ERP products for over 20 years."
Paul Ziliak, Partner at xkzero noted, "They [MicroAccounting Solutions] are genuine leaders in our industry, and we are thrilled and honored to have this merger become a reality."
"While this is good news for the two companies involved, the most exciting thing is the immediate and long-term benefit for customers," said Ziliak. "Each company's customers automatically gain new services that meet the high expectations that they expect from their existing Sage Partner. We feel that this move creates the strongest, most talented Sage ERP focused service and support partner in the U.S."
"The benefits were apparent a few minutes into our first meeting with xkzero - all the pieces just fell into place," said Bill Harris. "In Dallas, we will be able to offer Sage ERP X3 to leading Distribution and Manufacturing companies, as well as, custom software development for the full range of Sage ERP systems. We also look forward to leveraging our expert and acclaimed help desk and project and account management teams to the Chicago and upper Midwest customer base. It's a perfect marriage of two highly skilled and specialized shops combining to form a Sage Software VAR dream team."
MicroAccounting Solutions was named among the 2011 and 2012 Best Places to Work by the Dallas Business Journal and 2012 BSI Top 100 Vars. xkzero clients include 2011 Sage Lifetime Achievement Award Winner, Goose Island Beer Company.
###
About xkzero
xkzero consults with and develops ERP enhancement applications and custom software solutions for companies in need of improving their business, manufacturing, and distribution processes. xkzero's foundation is built on customer-focused consultation, and is an expert in implementing and customizing Sage 100 ERP (MAS 90), Sage 100 ERP Advanced (MAS 200), Sage 500 ERP (MAS 500), and Sage ERP X3. Their ERP enhancement applications for Sage 100 ERP (MAS90/200) include GetX, a Google-like Sage ERP system search tool; iSales 100, a mobile Sage 100 app designed specifically for iPad and iPhone; EBM100; and Route Sell Solutions,–which is also available for Sage 500 ERP (MAS 500).
About MicroAccounting Solutions
MicroAccounting Solutions has been helping businesses to be more successful by increasing productivity and decreasing costs since 1988. Having served over 1,000 Sage ERP clients, MicroAccounting Solutions is one of the largest Sage partners in the nation. Their core focus is helping businesses with software selection, implementation, project management, and training. In addition, MicroAccounting Solutions provides technical support, business process evaluation, and assists in the integration with other business management systems.