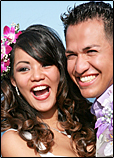 Honolulu, HI (PRWEB) August 09, 2012
Maui'd Forever is unique in its approach to Hawaii destination weddings. Most wedding planners do make planning and executing a wedding a very easy process but do not offer as many choices versus doing the planning and vendor selection oneself. They offer wedding services on all the major Hawaiian Islands including Maui, Oahu, Kauai and the Big Island. On each of these Islands local wedding vendors are available for the clients choosing.
Now being profiled on their website one can select from a variety of local ministers, photographers and other wedding options. Their competition for the most part offers complete packages but with the vendors of the planners choice. Maui'd Forever lets the client select from a variety of vendors that are profiled online. Of course those vendors are available depending on their individual schedules.
They are even going to the next step with some of their choices. It's not just a matter of choosing a photographer but rather what photographic products does the client want and at what price. The client can select from getting a CD of their photo's, a simple album with standard 4 X 6 photo's and now can get the popular coffee table wedding album as an option.
Maui'd Forever founder Mark Steffan says "We at Maui'd Forever believe in delivering great products at a great value. For example, the newest and greatest photographic option now is the coffee table wedding album. This is available with any of our wedding packages and on any of our Islands".
The few Hawaii photographers that even offer this option usually price it at $1500- $2000. The Maui'd Forever option costs $295. It gives the client 20 pages of 11' X 15" pages in a hard cover album. For a small extra fee of $5 per page the client can expand the album. Each page in that album can be of 1 picture or multiple.
Clients can have input on it's design and layout or give creative control to the photographer. Album designer Mark Steffan says he tries to tell the story of the wedding giving emphasis on certain shots. These include placing the rings on the bride and groom fingers, the kiss at the conclusion of the ceremony and certain couple shots taken towards the conclusion of the event.