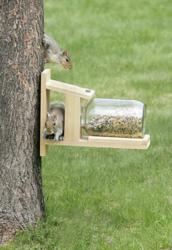 We never knew about "diversion feeding" before reading about it at Duncraft--it really works! Karen, Duncraft Customer.
Concord, NH (PRWEB) August 09, 2012
Duncraft customers watch and feed squirrels almost as much as they do the birds! And Duncraft has a wide selection of foods and feeders specifically for squirrels. Feeding squirrels away from bird feeders, also known as diversion feeding, is an effective and enjoyable way for Duncraft customers to enjoy both squirrels and birds.
Most Duncraft customers feed their birds black oil sunflower seeds and mixes that contain it. Squirrels will definitely enjoy sunflower seeds, but they'd much rather eat corn on the cob, corn kernels, peanuts, either whole or peanut halves, Sweet Corn Squirrel Logs and squirrel-specific blends such as Wildlife Snak-Jax. Snak Jax are a delicious combination of suet nuggets, peanuts, oats and raisins. Duncraft suggests offering these kinds of foods in a squirrel-friendly feeder that's easy for them to get into. This prevents squirrels from chewing into and destroying birdfeeders in an attempt to get birdseed.
Duncraft offers a number of squirrel feeders. One of them is Duncraft's Squirrel Jar Feeder. It has a one gallon jar to fill with any squirrel food mix or plain foods. Mount it to a tree or post well away from bird feeders. Customers love watching the squirrels scamper in and out.
Whether customers think squirrels are adorable little fur balls, or think of them as "tree rats", squirrels are extremely interesting animals! Here are a few fascinating facts about them.
Squirrels have been around for a long time–a squirrel's habit of gathering and storing food for the winter has allowed the species to survive for more than 35 million years! And to compensate for wear and tear, their teeth never stop growing. That's why squirrels seem to chew everything—they gnaw on things to keep their teeth "filed down." Squirrels even grind their teeth in their sleep! And contrary to the opinion of some birders, a squirrel's stomach is not a bottomless pit. They need about a pound of food per week and enjoy a varied diet of bugs, nuts, fruit, seeds and corn.
Ecologically, squirrels are important re-seeders of trees and woodland plants, busily burying their stash of nuts and seeds in preparation for winter. A squirrel can hide as many as 10,000 nuts each fall and can find his buried food under as much as a foot of winter snow. Some of these nuts and seeds are not retrieved and grow into plants in the spring. Squirrels' winter survival is dependent on remembering where he has deposited his caches. And what's fascinating is that the portion of his brain that controls memory actually grows by 15% in fall; so it's believed that squirrels really do remember where they stored all those nuts.
Squirrels can jump a distance of up to 20 feet while in the trees and can fall up to 100 feet without hurting themselves. They have long, muscular hind legs and short front legs that work together to aid in leaping, and their hind legs are double-jointed. This helps them run up and down trees quickly. They'll use their tail both for balance and as a parachute as they leap from tree to tree. They have 5 toes on their back feet and 4 toes on their front.
A few more facts: squirrels can be found on every continent except Antarctica and Australia. The word "squirrel" originally came from the Greek words meaning "shadow tail" and the hibernating arctic ground squirrel is the only warm-blooded mammal able to withstand body temperatures below freezing.
Founded in 1952 and located in Concord, New Hampshire, Duncraft's objective is to bring the joy of backyard birding to wild bird lovers all across the country. Mike Dunn, owner and CEO is constantly inventing and searching for innovative ideas in bird feeding—giving bird lovers years of bird feeding enjoyment, success and satisfaction.
Duncraft
102 Fisherville Road
Concord, NH 03303
603-224-0200