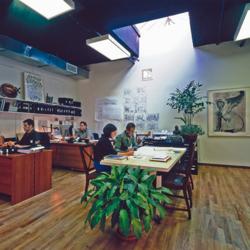 Love Where You Work
New York, NY (PRWEB) August 09, 2012
According to statistics given by the SBA or Small Business Association, 49% of small businesses fail within the first five years. This leads many to wonder, what sets apart a successful company from a failing one?
Well, there are many factors to consider such as products, location, business plan, management team, etc. However, there is one major factor that contributes to failure and that is operational inefficiencies. Paying too much for rent, labor, and materials can really create hurdles for both short and long term growth. Now more than ever, the lean companies are at an advantage. So… how do companies get and stay lean?
Controlling expenses is an important task, especially in the start-up phase where cash flow is king. One of the largest expenses a company will incur is office space. This is exactly why choosing the right office solution will enable a start-up to start lean and stay lean.
Large companies like The Ladders, Linkedin, and Gilt groupe have one thing in common when it comes to office space: they went with the flexible choice!
Each company decided on renting space at a shared office provider in the Chelsea and Flatiron area of NYC, also known as Silicon Alley due to today's large tech presence. This long time provider of shared office space is known as Select Office Suites. Select Office Suites has been providing furnished and flexible offices for any size company for over a decade. They include the basic needs such as internet, phone, and furniture along with luxuries such as state of the art meeting rooms, on-site cafes, cleaning, concierge services, and even networking events. For more information please visit http://www.selectofficesuites.com. Shared office space is gaining popularity in many areas, especially in NYC. Ten years ago shared office space was not easy to come by. Now, companies like Select Office Suites are expanding rapidly. This office solution is the new trend this summer in NYC real estate.
With the success of past tenants as a testament, Select has also recently welcomed some additional tech companies such as Door3 and Adaptly. Adaptly was recently named one of Time Inc.'s Top Ten NYC Startups to Watch for in 2012. Adaptly used this shared office concept as swing space this summer to accommodate over 40 employees while their long term lease was being worked out.
One of the major benefits to startups that decide on shared office space at a company like Select Office Suites is the flexible lease terms. Companies can rent space for any term between 1 day and 1 year, and for any size group ranging from 1-100 people. When selecting office space, especially at the startup phase, it is important not to over commit. The worst financial mistake a company can make would be to get locked in to a long-term lease with more space than necessary! Selecting a shared office environment can help a company grow and add employees, or even downsize when needed. Either way, Select Office Suites aids in managing cash flow and preventing over expenses.