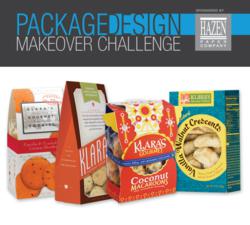 The range of designs created by this year's competitors is inspiring.
Cincinnati, OH (PRWEB) August 15, 2012
The package design contest showcases the talents of four design teams as they develop new packaging ideas for a single brand's current product line. Members of the package design community can vote for their favorite redesign concept at Pack Expo International in Chicago, IL, in October 2012, or online on Package Design's website.
The four competitors spotlighted by Package Design magazine and its parent company, ST Media Group International, in the July/August 2012 issue are: Bailey Brand Consulting, DiDonato Design, Jenn David Design, and Pulp + Wire. Each team took a distinctly different approach to preparing the brand for a new era.
This year's brand owner and subject brand is Klara's Gourmet Cookies of Lee, MA. The producer of European cookies and savory shortbreads, led by founder Klara Sotonova, infuses her grandmother's rich Czech Republic baking traditions and recipes into the company's line of gourmet edibles. Klara's is participating in the contest to boost the brand's exposure on a national stage and strengthen its position as a regional, wholesale baker. The owners also are curious about the potential of a redesigned package.
"The range of designs created by this year's competitors is inspiring," says Linda Casey, editor-in-chief, Package Design magazine. "The competition is always exciting, but this year's competition yielded such different package design concepts that it really spotlighted the uniqueness of each agency and their designs..." This ninth edition of the Makeover Challenge is sponsored by Hazen Paper Company.
The design team submissions can be viewed in the July/August 2012 issue of Package Design and online at packagedesignmag.com/makeoverchallenge. Makeover Challenge online voting is now open. In-person voting will be held October 28-31, 2012, at Pack Expo International in Chicago. The winning design team will be honored with an in-depth profile in the December 2012 issue.
About Package Design
Published 10 times a year, Package Design provides in-depth insight into the vibrant and evolving package design field. Package Design's editorial content consists of departments and features highlighting the products, techniques, and insights needed for package designers to succeed in delivering increased sales for their clients. For more, visit packagedesignmag.com.
About ST Media Group International
ST Media Group International Inc.'s products enjoy a worldwide reputation of quality and timely editorial. Located in Cincinnati, ST Media Group is a 105-year-old multimedia company that specializes in the business-to-business markets of visual communications consisting of signage, retail design, screen printing, digital imaging, package design and boutique/hospitality design. Visit stmediagroup.com for details.