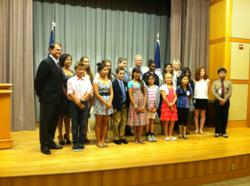 Washington, DC (PRWEB) August 16, 2012
The Foreign Service Youth Foundation is a not for profit organization that "The Foreign Service Youth Foundation supports children, teens and families affiliated with U.S. foreign affairs agencies." Through newsletters, sponsorships and contests, the foundation provides a community for young people to make the most of their Foreign Service experience and adapt to changing environments. The Annual Essay Contest, sponsored by Northern Virginia Property Management and Sales Services firm, McGrath Real Estate, is open to both middle and high school aged Foreign Service youth and asked them to respond to a question about their life. Winners received cash prizes as well as being honored at the Foreign Service Youth Foundation Awards Ceremony in Washington D.C. The event took place on July 20th, 2012 and was a huge success.
McGrath Real Estate was founded in 1975 by the McGrath family. Jim McGrath, President and Principal Broker and his brother, Vice President, Tim McGrath spent much of their childhood traveling the world with the father, a Foreign Service Officer and mother. Understanding the unique challenges and needs of owning a home while overseas, the McGrath's began their Northern Virginia property management firm. Now decades later, Jim and Tim own and manage the business. Inspired by their own experience as Foreign Service youths, the McGrath family chose to become involved with the Foreign Service Youth Foundation. In early November 2011, Jim McGrath was nominated to sit on the Foreign Service Board of Directors and is one of the judges for the Essay Contest.
This year many great essays were submitted but only three from each category could be chosen. The high school winners included first place winner Vivian Holt currently stationed n Gaborone, Botswana, second place winner Caroline Ezekwesili currently stationed in Cape Town, South Africa and third place winner Elizabeth Caltagirone stationed in New Delhi, India.
The middle school winners included first place winner Alexander Toyryla currently posted in Chengdu, China. Second place was awarded to Claudia Amadeo, currently posted to Brasilia, Brazil and third place winner Martin Lahm, currently posted to Bucharest, Romania.
To read the winning essays and read more about the winners, visit the FSYF.org
About
McGrath Real Estate Services has served the Northern Virginia region since 1976 as an expert in property management and real estate sales. Founded by a Foreign Service family they understand and appreciate the unique needs of homeowners serving our country abroad. For more information please visit McGrathRealEstate.com.