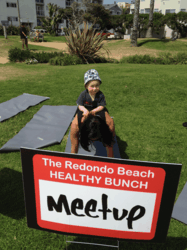 "Our goal is to show people that working out and getting fit doesn't have to be complicated'
Redondo Beach, CA (PRWEB) August 23, 2012
What does the beach + fitness + free have in common? Well, if you are looking for the best of everything in Redondo Beach, one local boutique fitness studio, Studio Pulse, in Redondo Beach has the answer by creating a unique workout experience for Southbay locals on the beach each week. Their desire to engage the local community goes beyond the doors of their studio. "We bring our studio to the beach! says Hedi Alavi co-owner at Studio Pulse. "Our goal was to show people that working out and getting fit doesn't have to be complicated." So three days a week they pack up their exercise bands, blocks, straps and mats and set up camp just north of The Beach House in Hermosa Beach leading stretch and sculpt mini classes for anyone who wants to stop by and participate. "It's a cool concept," says Kristy Enos of Torrance, CA. and who doesn't want to be working out at the beach? I was walking my dog on the beach one day and spotted the group and jumped right in. I used muscles I didn't know I had and took back some ideas to do at home."
This unconventional approach to fitness is how these two ladies run their studio in Redondo Beach. "We set out to make fitness simple, fun and accessable for people and create a program that is more of a customized workout in a group setting. We give personal attention to our clients and that's what they love," says Elise Hartley. The brand, "Spin. Sculpt. Stretch." is simple. And the fusion of these three concepts is what makes their program successful. The energy of the space paired with one set of highly-qualified instructors fuses fun with results, says Elise.
Complimenting their fitness classes are Pulse Kids Classes, offering Kids Yoga (aged 3 to 10) and Pulse Toddlers for the early movers. Pulse Kids was inspired by one of the owner's 2 year old son, Joel. "We know how hard it is for moms/dads to find time to workout with small children and we wanted to make our studio a place where families can workout together," says Hedi. Toddler classes at Studio Pulse will kick off in September and offer parents the opportunity to take a Spin class while kids are actively engaged in the Pulse Kids Program, like the current Kids Yoga class on Saturdays at 9am. They also hold toddler classes for moms/dads and toddlers at the beach on Tuesdays at 2:30pm.
So just where can you find all these cool events around town? Sign up for The Redondo Beach Healthy Bunch through Meetup.com and join for free. If you are looking to meet new people in the area or connect with like-minded individuals or join a workout group where you feel motivated and inspired then check out their meetup. The Redondo Beach Healthy bunch is dedicated to helping people get fit but more importantly meeting people along the way that can help contribute to a healthy lifestyle, etc. "Being healthy is a choice. It's balanced exercise, nutrition and building meaningful positive relationships that bring optimism to your life" says coordinator Hedi Alavi. She and her partner, Elise Hartley lead this exciting group and invite locals to meet up to create a social event around exercising and being healthy!
About The Redondo Beach Healthy Bunch
The RBHB meets on Tuesdays at 2:30pm for Pulse Kids, Toddler class, Thursdays at 12:00pm for Stretching on the beach and Friday at 4pm for Sculpting. Once a month you can find them at the Riviera Village Farmers market sharing healthy recipes and at the Hermosa Beach farmers market doing kids yoga after school.
You can access the Meetup Group for The Redondo Beach Healthy Bunch at http://www.meetup.com/theredondobeachhealthbunch.com