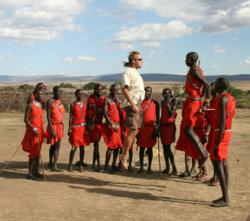 This interaction with indigenous communities through sustainable tourism fosters intercultural understanding and exposes PW travellers to different cultures and ways of life.
Washington, D.C. (PRWEB) August 09, 2012
Today the United Nation's celebrates International Day of the World's Indigenous Peoples, an annual global initiative that empowers indigenous cultures; promotes intercultural understanding; and recognizes the rights of indigenous people, the challenges they face, and their importance to cultural diversity and the broader ecosystem. According to the UN, there are some 370 million indigenous people living in 70 countries around the world with unique traditions and distinct social, cultural, economic, and political characteristics.
In honor of this significant celebration of indigenous people and cultural diversity, PlanetWildlife (PW)—the premier sustainable wildlife tourism company—is featuring three new wildlife tours and highlighting an existing tour that offer travellers the chance to meet with indigenous people. This interaction with indigenous communities through sustainable tourism fosters intercultural understanding and exposes PW travellers to different cultures and ways of life.
"We at PlanetWildlife understand that wildlife and their habitats are intertwined with people everywhere. Communities that have learned to live sustainably have thrived over centuries, developing rich cultures and deep respect for their environment. We look to celebrate these cultures through a meaningful interaction with them. In the process, we hope to support this important UN initiative and promote intercultural understanding," says Sachin Agarwal, CEO of PlanetWildlife. "Moreover, by contributing to their economic development, we aim to increase the value these communities place on their ecosystems. This will hopefully make them allies in our ultimate objective of conservation."
The following tours offer PW guests various experiences that incorporate indigenous cultures, from home stays and traditional meals to enjoying cultural performances and learning about their customs. New to the PW portfolio, the first three tours spotlight the cultures of the Dayak people of the Indonesian province Kalimantan (Borneo). Collectively known as the Dayak, these indigenous people are in fact from many different tribes, such as the Ngaju, Ot Danum, and Ma'anayn. The fourth tour is one of PW's most popular trips to Kenya and Tanzania, and allows visitors the chance to interact with the Maasai people. The Maasai are a well-known tribe that are native to Kenya and Tanzania along the Great Rift Valley plains, and still live their pastoral lifestyle.

For further information on itineraries and tours, please visit PlanetWildlife.com , or email: info(at)planetwildlife.com. For global media inquires please contact Mytri Reddy at media(at)planetwildlife.com.
About PlanetWildlife:
PlanetWildlife is an international sustainable travel company that specializes in wildlife travel. It is backed by highly successful entrepreneurs and managed by a professional team who are passionate about wildlife and have been involved in a variety of conservation activities over the years. PlanetWildlife.com features more than 300 itineraries to Africa, Asia, and the Americas comprising a diverse range of photography safaris, hiking expeditions and bird-watching adventures, as well as ocean cruises to the Arctic and Antarctica.
Most tours offer daily departure dates and each is well organized, competitively priced, environmentally responsible, and tailored to suit the requirements of group or individual travelers. All tours are led by highly qualified and experienced leaders, and aim to leave a minimal negative impact on the environment. Respected travel industry professionals and wildlife experts work in consultation with PlanetWildlife and are instrumental in designing each itinerary. The company takes a comprehensive approach to sustainability by promoting a greater understanding and respect for local cultural, social and environmental issues through tourism and its corporate social responsibility initiatives. It is part of PlanetWildlife's corporate policy to fund select awareness drives and wildlife conservation programs and welcomes suggestions from the public in this regard.
About the International Day of the World's Indigenous Peoples:
The International Day of the World's Indigenous Peoples is commemorated annually on August 9, in recognition of the first meeting of the United Nations Working Group on Indigenous Populations, held in Geneva in 1982. The International Day was first proclaimed by the General Assembly in December 1994. For more information, click here.