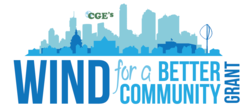 CGE wants to give schools, municipalities, and public service sectors a break on their utility bill.
Brighton, MI (PRWEB) August 10, 2012
Clean Green Energy LLC "CGE" http://www.cleangreenenergyllc.com has issued a "Wind for a Better Community Grant" for schools, local governments, and public facilities.
Grant recipients will be experiencing the benefits of renewable energy produced by CGE's innovative vertical-axis wind turbine "WIND•e20" installed at their facility. The Grant will award up to 25 institutions, providing emission free electricity for five years and saving money at schools, local governments and public facilities by reducing their utility bill.
CGE will pay for all the electricity that WIND•e20 produces so that these institutions can reinvest the money they're saving into their community. If you represent a school, municipality or public facility, please take advantage of this opportunity to apply for this exciting, community-changing Grant.
Grant applications can only be submitted online at http://www.cgeramp.com/windgrant. Grant applications must be received not later than October 6, 2012 at 11:59 pm EST.
About CGE
CGE has developed an innovative vertical axis wind turbine called WIND•e20. It is not intended for wind farms but for individual schools, office buildings, small businesses, and water treatment facilities. CGE will install WIND•e20 at the consumer's facility at CGE's expense; the electricity produced is often at a discount to current utility rates.
WIND•e20 is a sleek, pleasing to the eye, design that is safer for birds. It stands 105 feet tall. It has remote controlled blades that fold themselves up in dangerous, high-wind, situations. It can power a school or business without the pulsating sound produced by other turbines.
WIND•e20 is the first wind turbine of its size, 65kW or larger, that self-erects without any cranes and without pouring a hundred tons of CO2-producing concrete. It can be easily delivered on a standard flatbed semi-truck.
For more details about WIND•e20, including a narrated 7 minute video simulation, please visit their website http://www.winde20turbine.com