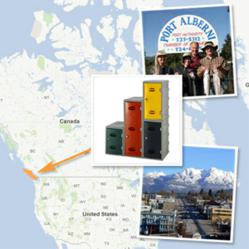 (PRWEB UK) 10 August 2012
Action Storage proudly waved off a container bound for Port of Alberni, near Vancouver in Canada on Friday 27th July. This is the company's first export to Canada, and hope it will be the first of many.
The client from the Port of Alberni, found eXtreme Plastic Lockers® on the dedicated website http://www.extremelockers.com, and subsequently ordered 160 lockers, in various sizes and colours. These are bound for a swimming pool in Port Alberni. The eXtreme Plastic Lockers® are available with a variety of lock options, cam locks or swivel catches which are supplied as standard; or a coin return lock. Usually the lockers are supplied with coin return locks to accommodate one pound or one euro coins; however, this time a special coin return lock to accommodate a Canadian quarter coin was specially manufactured.
The eXtreme Plastic Lockers® are a perfect solution for swimming pools, as they are made from heavy duty polyethylene plastic, and are therefore rust proof and water resistant, enabling them to be stacked outdoors (recommend under cover) without the risk of them deteriorating – perfect for swimming pools, both inside and outside. The lockers are extremely strong, with hinges able to resist 3200N (320kg) of pressure, and doors strong enough to resist the most determined vandal.
About Action Storage
For over 26years Action Storage (http://www.action-storage.co.uk) has supplied shelving, racking and other storage equipment using the latest materials and innovative designs. Its clients include supermarkets, warehouses, government offices and anyone else requiring high quality storage systems throughout the UK and mainland Europe.
Action Storage prides itself on its high service levels, and provides a free, unique advice line for discussing your requirements and assessing the perfect storage solution.
For service enquiries contact:
Website: http://www.action-storage.co.uk
Email: sales (at) action-storage (dot) co (dot) uk
Tel UK: 0800 592215
Outside UK: +44 (0)1908 525700
Fax: +44 (0)1908 321650
6 Fitzhamon Court
Wolverton Mill South
Milton Keynes
Bucks
MK12 6LB