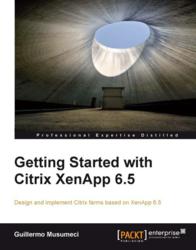 (PRWEB) August 11, 2012
Packt is pleased to announce Getting Started with Citrix XenApp 6.5, a new book consisting of new features in XenApp 6.5 such as Role-based Setup Wizard, Session Pre-Launch (Instant App Access), Citrix AppCenter management console, Citrix Receiver and Citrix Dazzle, and much more.
About the Author:
Guillermo Musumeci - Guillermo Musumeci is a Windows Infrastructure Architect specialized in Citrix and virtualization with 16 years of experience. He is the founder and developer of the popular site CtxAdmTools, which provides free tools to manage Citrix environments, Active Directory.
This book explores the XenApp 6.5 Architecture while providing a comprehensive detail on how designing, implementing and maintaining Citrix farms. Readers will learn to create and apply Citrix Policies to control connections, security, and bandwidth settings using the Group Policy Management Console, Citrix Delivery Services Console, and Local Group Policy Editor.
With the help of a use case throughout the book, the author illustrates advanced topics like creating management scripts and deploying and optimizing XenApp for Citrix XenServer, VMware ESX, and Microsoft Hyper-V virtual machines. Using Citrix HDX technologies, readers will also learn how to optimize multimedia content on XenApp.
Some of the chapters emphasized in this book are:
Chapter 1: Getting Started with Citrix XenApp 6.5
Chapter 2: Designing a XenApp 6.5 Farm
Chapter 3: Installing XenApp 6.5
Chapter 4: Advanced XenApp Deployment
Chapter 5: Using Management Tools
Chapter 6: Application Publishing
Chapter 7: Application Streaming
Chapter 8: Managing XenApp Policies
Chapter 9: Printing in XenApp Environments
Chapter 10: Multimedia Content in XenApp
Chapter 11: Managing Sessions
Chapter 12: Scripting Programming
Chapter 13: Receiver and Plug-Ins Management
Chapter 14: Virtualizing XenApp Farms
Style/Approach
Written in a tutorial style with step-by-step instructions, this book is a practical guide for system administrators or consultant who wants to implement and administer Citrix XenApp 6.5 farms.
Packt has published a couple of other Citrix titles:
1) Citrix XenServer 6.0 Administration Essential Guide (June 2012)
2) Getting Started with Citrix XenApp 6 (June 2011)
Packt Enterprise is a publishing division of Packt Publishing designed to serve the information needs of IT Professionals in the Enterprise space. Packt Enterprise also publishes on Microsoft, IBM, Oracle, Citrix, Java, Amazon, Google and SAP technologies.