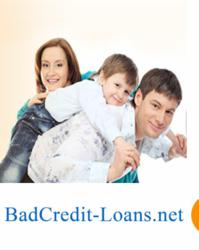 The potential gains far outweigh the short period of time it takes to fill in the form. As soon as it is submitted, our system gets to processing it immediately, checking for the most appropriate matches.
Atlanta, GA (PRWEB) August 15, 2012
BadCredit-Loans.net, the leading U.S bad credit loans matchmaker service, announces that low credit scores should not dissuade any would-be borrower from comparing finance options through its new, free service this summer. The website has developed an intelligent loan aggregator system that takes seconds to process through a database packed full of the best adverse finance lenders. It is free to use the quote generator for instant decisions and can lead to loan funds being paid directly into a U.S checking account within 24 hours, or less in many cases.
While other comparison services and direct lenders insist upon running applicant's sensitive financial data through a mass-scoring system reporting to credit reference agencies, Bad-Credit-Loans and its partnered lenders are turning the other cheek from what they consider a "punishing and unhelpful" procedural requirement. Instead, applications submitted through the website will be considered solely by lenders that have preferential dispositions towards those with non-traditional financial backgrounds, patchy histories or even no credit past at all.
The service is skillful at returning to consumers a comprehensive list of lenders, products, loans and interest rates with different terms and particulars. From the outset, an applicant knows that only lenders that are likely to look upon their application favorably will be reviewing their details, making for a more positive experience overall. This is in contrast to other aggregation services that send applications to a bulk list of lenders, some of whom are be unsuitable and likely to reject vast numbers of consumers. By having a selective yet broad base of lenders within its circle, Bad Credit Loans is able to consistently help consumers find bad credit loans from the right companies.
A spokesperson for BadCredit-Loans.net explained that it hopes to breathe ease and pragmatism back into the industry which has left consumers jaded and disappointed due to rejection and prohibitive application procedures.
"BadCredit-Loans.net would like to officially announce the launch of its new loan comparison software to assist the search for finance due to poor credit. Loans are no longer off limits through our platform of associated lenders; they take a compassionate and realistic view of these challenging times in which most people have a hard time with money management. Where other services make the hunt for competitive lending solutions harder, we make it easier. Our free online application takes less time to complete than making a cup of instant coffee and there is nothing to lose by applying."
The spokesperson continued, "The potential gains far outweigh the short period of time it takes to fill in the form. As soon as it is submitted, our system gets to processing it immediately, checking for the most appropriate matches. By the time the kettle is boiled for that coffee, an applicant has their answer! Within 24 hours following approval, that much needed bad credit loan could be in the bank. It doesn't get any easier than this!"
To learn more, visit: http://www.badcredit-loans.net/