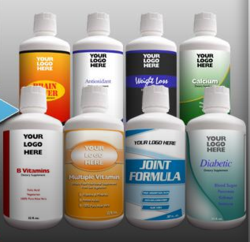 Supplement use among Americans has been increasing for years. It's more than doubled since the eighties
Murrieta, CA (PRWEB) August 15, 2012
Liquid Health, Inc. has seen huge growth in its private label program over the last year. This program allows people to start a vitamin store with little start-up capital and without any knowledge of the vitamin industry. Liquid Health has over 20 years of industry experience which it uses to help new start-ups enter the vitamin market.
A veteran in the supplement industry, Liquid Health, Inc. is helping to provide individuals with the chance to start a vitamin line. At a time when people are having a hard time finding a job, Liquid Health, Inc.'s private label program continues to grow. With more than half of Americans using vitamins or supplements, according to CNN, the demand for more and new vitamin products is clearly there.
"Supplement use among Americans has been increasing for years. It's more than doubled since the eighties," according to Brett Peterson, Director of Business Development for Liquid Health, Inc., "Because of this, we've seen interest in starting a private label line of vitamins grow because people are looking for new and different employment opportunities in this economy."
One hurdle to starting a new business can be the investment money needed up front. Liquid Health, Inc. eliminates this hurdle by offering low minimum orders. With an initial order as small as 12 bottles, someone could start a vitamin store quickly and easily, without having to store hundreds of bottles in inventory. Liquid Health does offer discounts on larger orders starting at 24 bottles with even deeper discounts on volume orders of 400-800+ bottles.
Included in the private label program is access to Liquid Health's in house design time. The design team will work with the customer to help create a custom product label. Liquid Health will also print these labels on site for smaller runs, cutting down on costs for the customer.
For those with little knowledge of the supplement industry, Liquid Health has more than 40 stock products to choose from, taking the guesswork out of knowing where to start. This private label program also includes the option to create custom formulations or variations on the stock products that are already available. Liquid Health offers bottles sizes ranging from 32 oz. to 2 oz. shot size bottle, similar to 5 hour energy bottles, to meet all the needs of those participating in the private label program.
Liquid Health, Inc. has been designing and manufacturing liquid vitamin supplements since 1991. Liquid Health, Inc. first started offering private labeling in 1997. All Liquid Health products, including those through the private label program, are manufactured in a certified-cGMP (current Good Manufacturing Practices) facility, using only premium/qualified ingredients, and are analyzed and tested. All Liquid Health products are made in the U.S.A.