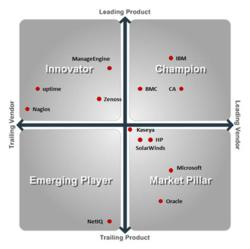 Organizations need to understand when a Kia is as good as a Cadillac. Pricing for systems management suites can vary from under $10K to over $1M, depending on your requirements
London, Ontario (PRWEB) August 13, 2012
Increasingly complex IT environments have created a strong demand for solutions that can centralize and simplify systems management. The demand has sparked significant growth in systems management adoption and the market is trending toward customizable and extendable solutions. Many large vendors provide all-encompassing solutions, but according to Info-Tech Research Group, who recently released a report recognizing BMC Software, CA Technologies, and IBM as market Champions, an all-encompassing solution may be overkill, and is definitely more expensive. Organizations need to be sure to right-size their solution or they could end up overspending.
"Organizations need to understand when a Kia is as good as a Cadillac. Pricing for systems management suites can vary from under $10K to over $1M, depending on your requirements," says Frank Trovato, Research Analyst for Info-Tech Research Group. "Organizations sometimes make the mistake of going for the Cadillac so they don't miss out on the bells and whistles, but if the solution is too complex to fit near-term needs, it won't be utilized well. They pay for features they don't need and won't use."
BMC Software, CA Technologies, and IBM are all Cadillacs when it comes to Systems Management products, providing end-to-end functionality from monitoring to capacity planning. These vendors have a long history in this space, and continue to innovate. The level of automation and analytics separates these vendors from many of the other players in this space. Info-Tech Research Group named each of these vendors Champions in the report.
The Value Award went to ManageEngine, a division of Zoho. They provide a comprehensive solution with monitoring, incident management, and automated provisioning functionality at a more-affordable price.
The Trend Setter Award went to SolarWinds for their innovation in how contributions from their user community are integrated into their interface; exemplifying the trend of customizable and extendible solutions.
Click here for the full list of Info-Tech Research Group's recommendations for selecting a System Management Vendor.
Info-Tech Research Group Vendor Landscape reports recognize outstanding vendors in the technology marketplace. Assessing vendors by the strength of their offering and their strategy for the enterprise, Info-Tech Research Group Vendor Landscapes pay tribute to the contribution of exceptional vendors in a particular category.
About Info-Tech Research Group
With a paid membership of over 25,000 members worldwide, Info-Tech Research Group (http://www.infotech.com) is the global leader in providing tactical, practical Information Technology research and analysis. Info-Tech Research Group has a fourteen-year history of delivering quality research and is North America's fastest growing full-service IT analyst firm.