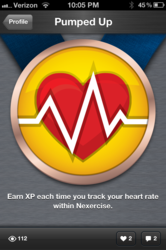 This is our first step towards integrating health measuring equipment into Nexercise.
Washington, DC (PRWEB) August 14, 2012
Nexercise, the weight loss app for busy people, has partnered with Azumio to enhance the Nexercise user experience. Nexercise, together with Azumio's "Instant Heart Rate" app now allows users to periodically use their iPhone to monitor their heart rate during physical activity. The great part is that this functionality is available without the need to purchase an external heart rate monitor. For less than $1, users can download the Azumio "Instant Heart Rate" app, which will automatically connect to and interact with Nexercise.
The Nexercise team is excited about this for a number of reasons. "This is our first step towards integrating health measuring equipment into the Nexercise app" said Nexercise CEO and co-founder, Ben Young. "This integration allows our users to get a periodic heart rate snapshot, ensuring they are exercising in a safe and optimal zone, depending on their goals," Young continued. In the future, Nexercise, plans to allow users to capture their health data and monitor trends over time. From a broader perspective, this integration allows Nexercise to better understand trends and health metrics so they may offer the best possible solution to motivate people to move and stay active.
How Does it Work?
Currently the integration is only available on the iPhone app, but will come to Android soon. When users start Nexercising in motion tracking mode, they can tap the Heart Icon on the upper right of the screen near the timer. If the Azumio Instant Heart Rate app is already installed, Nexercise automatically launches Azumio Instant Heart Rate in track mode. All the user has to do is put his or her finger over the iPhone camera until it finishes measuring the heart rate. Once a heart rate is determined, the user automatically returns to the Nexercise app which now shows the current heart rate. Upon submission of the exercise session, the user will receive the "Pumped Up" medal bonus points. If the Azumio Instant Heart Rate app is not already installed, the user is prompted to download & install it.
Background
Nexercise creator, Benjamin Young, struggled with his weight after college. He realized this was due to a series of bad habits that slowly accumulated once he entered the workplace. When it came to being active, Ben found himself caught in a vicious cycle. He went from being a gym addict, to being unhealthy and feeling lazy, to becoming more active, only to fall off the bandwagon again.
While attending the Wharton School of Business MBA program, Ben met his Nexercise co-founders, Gregory Coleman and "Boomie" Odumade, who had been experiencing the same difficulties. Together, they realized most people must have the same frustrations and challenges when it comes to living a healthy lifestyle. Determined to make a change, Ben, Greg, and Boomie dreamed up an interactive tool that would guide people to make healthy choices and stay motivated by giving them rewards the entire way through.
Azumio™ is a leader in biofeedback health apps on mobile devices with more than 20 million downloads to date on both iOS™ and Android® platforms.
Azumio is dedicated to the improvement of people's wellness by influencing healthy behavior through the use of innovative mobile applications and allowing users access to aggregated personal health data to lead a health-oriented lifestyle.
Azumio works closely with research scientists from academic institutions – including top clinicians, researchers and professors at Stanford University and at the University of California, San Francisco. Azumio also partners with established industry leaders on next-generation technologies in mobile health.
The latest version of the Nexercise app is available now for iPhone in the Apple App Store at http://itunes.apple.com/us/app/nexercise/id417348701 and for Android in Google Play at https://play.google.com/store/apps/details?id=com.nexercise.client.android.
Azumio's Instant Heart Rate is available here: http://www.azumio.com/apps/heart-rate/