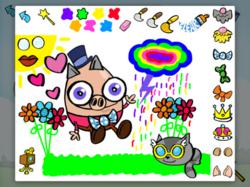 Nursery rhymes will never be the same again!
(PRWEB UK) 14 August 2012
* Read the rhyme! The original story, beautifully illustrated. Perfect for bedtime!

Illustrate the rhyme! A huge library of stickers lets adults and children alike
have hours of fun creating unique characters. Let's Make a Rhyme gives adults and children the opportunity to draw on and colour in many famous nursery rhyme characters. Even creating whole new ones.
Be in the rhyme! Choose pictures from the Ipad's library to be the face of the leading nursery rhyme character (Humpty Dumpty, Three blind mice, Incy Wincy Spider to name a few) - guaranteed to give parents and children plenty of laughs.
Re-write the rhyme! If a child is a budding poet or author? Each rhyme can be re-written, saved, and played back over and over again.
Play the rhyme! Each nursery rhyme comes with its own unique game, giving parents and children even more fun. Either with Mum or Dad or on their own, Let's Make a Rhyme can improve children's reading, writing, spelling and drawing skills - and they won't even notice, they'll be having so much fun.
And as the end of these long summer holidays draws near if the children are relaxed and having fun, there will be no need for all the king's horses and men to put Mum and Dad back together again!
Go to the App Store today to download Let's Make a Rhyme:
http://itunes.apple.com/gb/app/lets-make-a-rhyme/id528234071?mt=8
Includes the Children's Classic Humpty Dumpty for Free! Also available for 69p each are five more rhymes including the classics Three Blind Mice and Little Miss Muffet - with more to come. Nursery rhymes will never be the same again!
You can read more about the app on its very own website http://www.letsmakearhyme.com/
Device requirements:
Ipad
Let's Make a Rhyme is developed by Short Bald and Lanky Productions
http://www.shortbaldandlanky.com
Short Bald and Lanky Productions is a new mobile application developing company that was set up in February 2012. This is their first app to be released and there is many more coming. The three owners have different backgrounds, the Short one is the analyst, the Bald one is the programmer and the Lanky one is from a business background.
Owners:
Nick Davies
Daniel Nicholls
David O'Neill
Contact us on:
us(at)shortbaldandlanky(dot)com
Twitter:
https://twitter.com/#!/ShortBaldLanky
Facebook:
http://www.facebook.com/LetsMakeARhyme
http://www.facebook.com/shortbaldandlanky