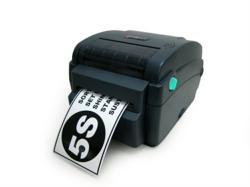 With unemployment as high as it is, any increase in industrial production is a boon to this economy.
Lake Oswego, OR (PRWEB) August 15, 2012
Times have been tough for American manufacturing companies, but economic conditions may be improving. Creative Safety Supply reports that purchases of industrial equipment have increased, including a rise in sales for their bestselling the LabelTac 4 brand of industrial label printers.
These increases could have many factors, including a rise in safety labeling concerns, OSHA crackdowns, or new management expectations, but a 20% rise in industrial label printer sales also strongly indicates a boost in industrial operations, which may signal a slowly improving need for U.S. made goods and a gradual economic recovery. As the need for U.S. exports increases, the need for skilled workers increases, and the economy strengthens.
LabelTac label printers are professional-grade labeling systems that are great for printing 5S, lean, and pipe marking labels, as well as safety signs, and even bumper stickers. These machines are great for making fast, affordable in-house labels and signs that will hold up to the elements and are water and chemical-resistant. For more info, call Creative Safety Supply at 1-866-777-1360, or visit them on the web at: http://creativesafetysupply.com