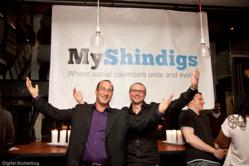 MyShindigs is becoming an influential and leading force in social media and bringing people of all walks of life together along the way...
Boston, MA (PRWEB) August 14, 2012
There are many organized singles events that can be found in all four corners of the world; speed dating, matchmaking, singles cruises and vacations, meet ups as well as activity and faith oriented themes. The majority if not all of these events charge fees for participation so it is not surprising that event planners, promoters, entrepreneurs, and singles are taking it upon themselves to organize and host a variety of singles events utilizing social platforms like MyShindigs.com or facebook.com where there is no cost involved. It is always fun and interesting to meet new people, and this can possibly lead to a match and even a love connection.
MyShindigs.com is a party and event planning, promotion and broadcast platform that are free to use for everyone who joins. The website offers unique and comprehensive on-site tools that facilitate the planning and organization of events from start to finish. There are also industry related job postings, a resource sharing area such as budgeting spreadsheets and a forum where users may exchange information on the best venues, caterers and so forth which all help in hosting a better event. More pertinent to the dating scene there are interesting party planning and search features that allow members to organize various singles and matchmaking parties for friends and acquaintances. If the parties are marked 'public' members may invite themselves into the event particularly if those people happen to live in the area or share similar interests. Each time a public event is created it is also populated across search engines to help spread the word.
Another unique feature allows members to follow other member's parties and events creation by receiving alerts in real time the moment a public event is posted by another member who is of interest. Videos from past events may be shared and broadcast in addition to taking advantage of the many planning and promotion tools, all of which are offered free of charge. 'MyShindigs is all about facilitating bigger and better parties and events in the hope of expanding people's social calendars through social media and networking' say the site co-founders Jason Andrews and Matthew Tautt.
Looking at the member home page there is a listing of all local public parties for a particular user in their given city. One party of note coming up later this month is a party in Toronto, Canada which is called the "Sexy & Single in Toronto Party" scheduled for August 22ndat Cube; one of Toronto's most popular outdoor patios. The invitation states that there is no cover for the event. 'What I enjoy about the events organized through MyShindigs is that they are usually planned by other members with no intention other than to have fun and meet new people with similar interests' states Melissa who is attending the upcoming shindig.
Many members have been joining MyShindigs from the U.S., Canada, Europe and even Asia over the recent months since the site first debuted in late February. It is up to the members to come up with and create events and invite others to join. It is all about growing your social calendars and socializing with like-minded people in real life through the power of social media. Venue owners, promoters, event planners, and entrepreneurs alike have also been finding the site as a useful tool to drive attendees to their establishments and events.
Perhaps random encounters and meetings for singles in bars or clubs isn't the most viable option, the solution is to log onto websites like MyShindigs.com and organize or join a singles party that is a comfortable fit. Getting out and meeting like-minded people for great conversation and sharing some laughs is never a negative, and who knows maybe Mr. or Mrs. Right are just a few mouse clicks away. People are rushing online to join the popular social networking site that is changing the face of social media as we know it.
About MyShindigs
MyShindigs is a social networking platform that specializes in allowing members to plan, organize, manage, promote and broadcast their public, private and company events and parties. MyShindigs allows users to search out, share, follow and join each other's events and parties of interest to expand their social calendar throughout their lives. For more information, visit http://www.myshindigs.com.