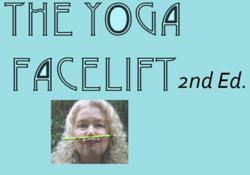 Change your face in ten minutes a day
Los Angeles, CA (PRWEB) August 15, 2012
Founder of the all-natural, award-winning skin-care line Marie-Veronique Organics, Marie Nadeau believes the secret to sexy at sixty is sun protection, all-natural moisturizers, and gentle exercise. Her collection of facial exercises, The Yoga Facelift, was originally published in print in 2007 and spent over six weeks as Amazon's top skin-care seller. Now updated to cover adult acne and new discoveries in anti-aging therapies, it will be in ebook formats from Bitingduck Press on Labor Day, 2012.
Based upon the principles of yoga, the program includes exercises for the spirit as well as the muscles: relaxing, letting go of emotions that cause scowling and squinting, and learning to love what we see in the mirror. The first seven chapters of the book illustrate the exercise program using models of all ages and ethnic backgrounds. Problem areas, such as frown lines, puffy eyes, the neck and jawline get special attention beyond the full exercise series, and a "quick lift" gets results for those who have only minutes a day. All chapters include supplementary information on diet and skin care with references to scientific sources.
The second edition includes four entirely new chapters. The first three treat the problem of adult acne, and the challenges of treatment in sensitive mature skin. The final chapter explores new frontiers in anti-aging that are showing exciting results.
The electronic version of the book features full-resolution images that are resizeable to suit the user's eyes and screen. "I like all my exercise books as e-books," says Marie, "because pages don't flip shut while you're exercising." The book will be available worldwide through ebook sellers, including Amazon, Barnes & Noble, Kobo, and Google, and through libraries with Overdrive ebook lending.
Bitingduck Press is an independent publisher in Pasadena and Montreal. Founded in early 2012, the press has a full Fall catalog of three new fiction and three non-fiction titles, as well as over 140 existing titles acquired from Boson Books. Founded by three PhD scientists, the press specializes in fiction and non-fiction with a science theme, and welcomes new submissions in the areas of health and medicine. More information, including submissions guidelines, is found on their web site.