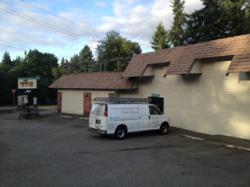 Building Dreams
Lake Forest Park, Washington (PRWEB) August 15, 2012
Ballard McFarlane, owner of GMG Construction Inc., purchased the old Guitarville building at 19258 15th Ave NE in Lake Forest Park near Shoreline. He's looking forward to expanding his family-owned general construction business into another location. He has already started to give the property and building a fresh clean look, and plans to open an espresso coffee drive-through establishment and lease space to a real estate brokerage office. Ballard said "I like having a challenge and I can see that this old building has a lot of opportunities. I think this is a great location that has a lot of potential to not only grow GMG Construction, but to start new ventures as well. We are very much looking forward to the move."
Ballard and all of GMG Construction want to become part of this community and they plan to get involved with the local neighborhoods and surrounding businesses. GMG Construction would like to help promote the economic health of the area as well as enhance its security and safety.
About GMG Construction Inc.
Ballard McFarlane has been in the construction industry for more than 25 years. At an early age he possessed a passion for building, remodeling and construction of all sorts. In the mid 1990's he partnered with some friends and formed GMG Construction and by end of the decade he took sole ownership of the company, which he has grown exponentially in the Seattle metro area. For going on two decades we at GMG Construction have created many working relationships with local suppliers, manufacturers, contractors of many different trades, architects, inspectors, and more. Typically we employ 6 to 8 full time employees and, as projects permit, we have the ability and resources to expand when needed.
We specialize in quality residential construction such as custom new homes, additions, remodeling kitchens and baths, extensions, historic renovations and insurance restorations. Our reputation is built on excellence, professional workmanship and the personal dedication we apply to all our customers' projects. We take care of any and all permits needed and guarantee our work. Our work sites are always clean and tidy-we respect our customers and their property, as well as their neighbor's property. We take great pride and joy in our trade of craftsmen.
We are a family owned and operated, licensed, insured, and bonded general contractor.
We have written references as well as many 5 star rating's throughout the web.
We are members of the Master Builders Association and Built Green.