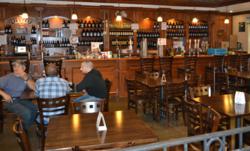 Westchester County, NY (PRWEB) August 14, 2012
DeCicco Family Markets, the family-owned gourmet market known for its selection of meats, seafood, and grocery, as well as a vast quantity of cheeses and beers from around the world, has been named a Best of Westchester winner for offering patrons the best growler fill. This is the second consecutive year that DeCicco's has been honored with this award.
DeCicco's Best of Westchester recognition was the result of its 12-keg system in its Ardsley store, which offers craft beers in a heavy rotation of unique brands and flavors including DeCicco's own Limone Luppolo beer in collaboration with Captain Lawrence Brewery (of Elmsford). A growler is a reusable, half-gallon container used to keep from-the-tap beer at its most fresh for two weeks or more; beer enthusiasts purchase growlers at select DeCicco locations and fill it with one of the dozen craft beers offered at the time of their store visit.
DeCicco Family Markets are located at 21 Center Street, Ardsley; 50 Independent Way, Brewster; 505 New Rochelle Road, Chester Heights; 1 Cross River Plaza, Cross River; 3651 Lee Road, Jefferson Valley; 180 S. Main Street, New City; 43 Fifth Avenue, Pelham; and 58 East Parkway, Scarsdale. For more information, visit http://www.deciccos.com
About DeCicco Family Markets
DeCicco Family Markets was founded in 1972 by John, Joe and Frank DeCicco. It began as a small storefront in the Bronx, offering a choice of high quality food to its growing array of customers. For over 30 years, DeCicco Family Markets has a proud history of bringing the largest selection of high quality food available to customers with a friendly, personal touch. It is this simple but unwavering mentality that has enabled the company to expand throughout Putnam, Rockland and Westchester counties. The family operates eight stores in the following locations: Ardsley, Brewster, Chester Heights, Cross River, Jefferson Valley, New City, Pelham, and Scarsdale. The company is also involved in a number of civic and community-related events, regularly working with schools, Little Leagues, churches, and Chambers of Commerce groups.