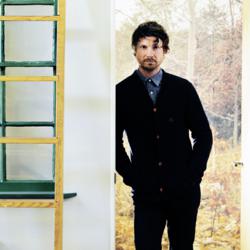 Cincinnati, OH (PRWEB) August 14, 2012
On September 11 Sea Wolf will release its third album, Old World Romance on Dangerbird Records. Old World Romance is the highly anticipated follow up to Sea Wolf's successful sophomore LP, White Water, White Bloom.
General admission tickets, $12.00 ADV & $15.00 DOS (plus applicable fees), go on this sale Friday August 17 at 10 AM at http://www.ticketmaster.com, http://www.tafttheatre.org, the Taft Theatre Box Office and all Ticketmaster outlets including select Kroger stores. Charge by phone at 1.800.745.3000.
Sea Wolf's founder and leading man, Alex Brown Church (writer/guitar/vocals), shares "After the last record, which was written and recorded far from home and was more of a group experience, I really wanted to stay close to home, be in my own space and give myself room to explore and write and record on my own schedule," Church continues, "I just felt I needed to bring Sea Wolf back to me, to my world," Church produced and recorded Old World Romance in the comfort of his home studio, with mixing by Kennie Takahashi (Broken Bells, The Black Keys, Jessica Lea Mayfield).
While the gorgeous full-band arrangements coupled with often dark, yet buoyant lyrics are sometimes reminiscent of White Water, White Bloom, Church delves into new territory with Old World Romance. The songs are stripped back and lean, simply melodic and brightly propulsive, leaning away from White Water's indie-folk epics. Left unchanged is Church's propensity to draw inspiration from his personal situations. One particular theme that pervades throughout the collection of songs on Old World Romance is Church's return to California.
He explains, "This record is about a lot of things, but some of it is about coming home after being away and facing the realities of one's life, and life in general. Things you may have run away from, and things you are ready to embrace. Reconnecting and growing up."
Leading single "Old Friend" is a bittersweet heart tugger centered around a minimalist drum beat and calculated acoustic plucking that highlights Church's vocals, and perfectly pulls at the albums' theme ofconfronting realityas well as the past. More upbeattunes such as "In Nothing" will make for the perfect soundtrack to your 2012 late-summer nights, with its meandering strings and bright snare beat. Slow burner "Blue Stockings" on the other hand, is a gentler, softer flashback to the days of Get to the River Before It Runs Too Low EP, Sea Wolf's 2007 debut release on Dangerbird Records. Joining Church on Old World Romance is Lisa Fendelander (keyboards), Joey Ficken (Drums), Ted Liscinski (Bass) and multi-instrumentalist Zac Rae.