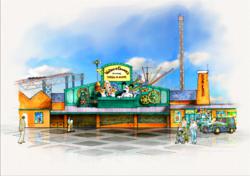 (PRWEB UK) 15 August 2012
Get ready to be stocked up on cheese because Wallace and Gromit are coming to Blackpool Pleasure Beach!
The Great British icons are to be the centerpiece of the new Thrill-O-Matic family ride which will replace the Gold Mine which closed at the end of the 2011 season.
The £5.25m investment is due to open in 2013 and will feature all the best-loved characters from the dynamic duo's adventures.
Creators Aardman are working with Blackpool Pleasure Beach design and engineering team on the ride which will take a trip through A Grand Day Out, visit The Wrong Trousers, take A Close Shave and deal with A Matter of Loaf and Death.
The ride takes almost four minutes and takes in dozens of well-loved scenes from the Wallace and Gromit films.
The riveting ride will also feature a shop where you can buy Wallace & Gromit merchandise.
Special hoardings featuring Wallace & Gromit are due to be erected at the site of Thrill-O-Matic as engineering work continues.
Blackpool Pleasure Beach managing director Amanda Thompson OBE said: "We are delighted to be welcoming Wallace & Gromit to Pleasure Beach.
"Thrill-O-Matic represents a significant investment in the park and we know the characters will be a huge hit with the families who come and visit Pleasure Beach.
"Wallace & Gromit are national treasures and to have them here re-affirms our commitment to attracting families back to the resort for what we hope will be A Grand Day Out!"
Nick Park, creator of Wallace and Gromit, said: "We are really enjoying working with the Pleasure Beach team on this new ride and new format for Wallace and Gromit and can't wait to get started on building all the props and set pieces."