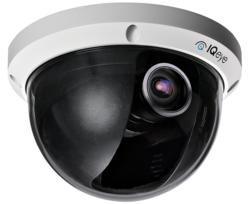 Specific vertical markets often have unique needs, and we are successfully designing our camera lines going forward to match what our top vertical market customers are telling us works best for them. Rob Ledenko, EVP, IQinVision
San Juan Capistrano, CA (PRWEB) August 14, 2012
San Juan Capistrano, CA, August 14, 2012—IQinVision (http://www.iqeye.com), market leader in high-performance HD megapixel IP cameras, today announced the next generation of Alliance-pro indoor and outdoor cameras.
The Alliance-pro is a full featured, multi-megapixel H.264 Main Profile vandal dome camera. With support for up to 5 MP resolutions, this camera provides multiple, individually-configured H.264 and simultaneous MJPEG streams. Always designed with the installer in mind, installation is quick and easy thanks to the remote motorized zoom and focus* (eliminates manual focus adjustments at the camera), a hinged pivoting shroud, and 3-axis gimbal.
The Alliance-pro can be installed virtually anywhere using Power-over-Ethernet, AC or DC power, and features a movable IR filter for day and night operation, as well as controls for optimizing video for any lighting condition. Two-way audio enables interactive communication between the camera and monitoring site. The external on-camera micro SDHC memory expansion port in combination with IQrecorder, or Direct-To-Storage recording, make the Alliance-pro a flexible, stand-alone platform ideal for motion-based recording or remote monitoring.
This and other IQeye cameras allow for seamless integration with current and future technologies such as exacqVision® Edge. This application utilizes the on-camera SDHC storage to create a low-cost, low-power system solution perfect for <20 camera installations. exacqVision® Edge is a complete enterprise VMS (Video Management System) server for video surveillance that runs directly on edge devices, like the Alliance-pro cameras, without the need for a separate, central server.
"This upgrade to our popular Alliance-pro line was driven by customer demand, as are many of our recent upgrades and new products. Specific vertical markets often have unique needs, and we are successfully designing our camera lines going forward to match what our top vertical market customers are telling us works best for them," Rob Ledenko, EVP, IQinVision
The Alliance-pro line of cameras will begin shipping in September. See the Alliance-pro and all of IQinVision's HD megapixel solutions at the 58th Annual ASIS Conference and Expo, booth #3939, September 10-13 in Philadelphia, Pennsylvania.
*With A1 & A2 lens options
About IQinVision
IQinVision has been designing, manufacturing and marketing the IQeye line of HD megapixel IP cameras since 1998. A world leader in IP network camera products, IQinVision is renowned for image quality, stability and reliability in the harshest environments. ONVIF and PSIA compliant, IQeye cameras are integrated with all leading NVRs and are backed by the most comprehensive warranty program in the industry. The company's products are widely deployed in banking/finance, city surveillance, commercial/industrial, critical infrastructure, education, gaming, government/law enforcement, healthcare, retail and transportation applications. IQinVision is a privately-held corporation headquartered in San Juan Capistrano, California with a regional office in Amsterdam, the Netherlands. For more information: http://www.iqeye.com
For Media Queries:
Bruce J. Doneff
Public Relations
843.476.3022
bruce.doneff(at)iqeye(dot)com
For IQinVision:
Wendi Burke
Director, Global Marketing Communications
949.369.8100
wendi.burke(at)iqeye(dot)com
###