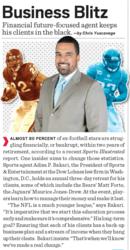 (PRWEB) August 14, 2012
Jet Magazine's August 20, 2012 issue profiles Attorney Adisa Bakari, President of Dow Lohnes Sports & Entertainment in Washington, D.C, for his distinctive approach as a sports agent. The profile focuses on Bakari's emphasis on educating his NFL athlete clients on the keys to success on and off the field, during and after their careers.
Writer Chris Yuscovage highlights Bakari's recent client retreat in D.C., which focused on wealth management, branding and building positive relationships with the media. In addition to numerous educational panels, featuring experts in the sports and entertainment industries, the group visited the NFLPA and the White House for special presentations. Sports Illustrated also highlighted the rarity of the retreat, a first of its kind, in a recent issue. Bakari's aim is to change the way his athlete clients view themselves, from football players to corporate executives.
Bakari, a native of Washington, D.C., started the sports law group a little over 10 years ago and has grown the practice into a roster of over two dozen players, including Pro Bowlers Maurice Jones-Drew, Antoine Bethea and Matt Forte. Though he had no prior agent experience, he was able to sell clients on the idea of having a well-established business law firm serve as their business and legal team.
In a short span of time, Bakari has grown Dow Lohnes Sports & Entertainment into a burgeoning practice. This feat is made even more impressive as it is atypical for a law firm of Dow Lohnes' size and scale to incorporate a new division into a long-standing, reputable firm. DLSE continues to grow as many prospective clients recognize the importance of surrounding themselves with a competent business team who can ensure that they are successful in the short term as well as the long term.
About Adisa Bakari: Adisa Bakari joined Dow Lohnes in 1998 as an attorney specializing in Sports and Entertainment Law and Executive Compensation matters. He currently serves as President of Dow Lohnes' Sports and Entertainment division. Mr. Bakari counsels professional athletes with respect to the negotiation of player and marketing contracts, in addition to various other aspects of their athletic and post-athletic careers. He is certified as an agent by the National Football League Players Association and the National Basketball Players Association.
About Dow Lohnes Sports & Entertainment: Dow Lohnes Sports & Entertainment evolved as a natural adjunct to the general legal services that Dow Lohnes, one of the top business law firms in the United States, has been providing to high net worth individual and corporate clients since 1918. The Sports Law division provides professional athletes with a full complement of legal and business services.