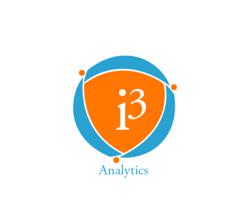 "The i3 Navigator suite allows you to see the entire landscape of your area of interest in a real-time, intuitive interface. From there, you can filter and extract only the data that matters to you."
-- Will Zerhouni, President and CEO
(PRWEB) August 16, 2012
i3 Analytics, a Maryland-based developer of data analytics applications for the biopharma industry, announced today the release of its i3 Navigator Suite of products. The i3 Navigator Suite gives users instant access to data analytics and visualizations for over 200,000 clinical trials across all therapeutic areas, tens of thousands of leading scientific experts, and updated news alerts on user-specified areas of interest.
Over the course of the last two years, i3 Analytics developed its i3 Navigator suite (comprised of ClinicalTrials Navigator™, BioExpert Navigator™, and BioNews Navigator™) by working closely with a top 5 worldwide pharmaceutical company.
Using the i3 Navigator suite, that company has been able to have users around the world sift through over six million biopharma documents in seconds to answer day to day research and business intelligence questions. As one current user put it, "i3 Analytics' applications are easy-to-use, helpful, and have direct application for clinical trial feasibility."
The i3 Navigator Suite offer several key differentiators, including a proprietary interface that makes sense of high volumes of data and a "deep linking" technology that draws connections between millions of disparate documents to show patterns and trends not seen before. Additionally, the i3 Navigator suite is priced to be deployed on every desktop at client sites, allowing enterprises to optimize their spending on information sources and to get information into the hands of key decision makers without steep learning curves or expensive license fees.
i3 Analytics will demonstrate the product suite on August 23, during a free webinar geared towards organizations in the biopharma industry.
"The i3 Navigator suite allows you to see the entire landscape of your area of interest in a real-time, intuitive interface. From there, you can filter and extract only the data that matters to you. Analyses that can typically take hours to complete can now be done in a matter of seconds," says Will Zerhouni, President and CEO of i3 Analytics.
The i3 Navigator suite is the foundation of other applications the company is working on that aim to make biopharma data analytics more accessible and easy to use. For more information, please visit http://www.i3analytics.com or call 443-518-7200.