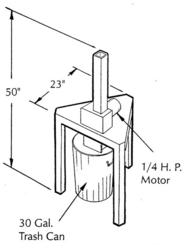 Although designed to be an electric can crusher, the plans can be modified to turn the unit into a hand-cranked crusher
Duluth, MN (PRWEB) August 16, 2012
The DIY can crusher is the latest construction plan to be released by Gizmoplans, a company known for its do-it-yourself projects. The newest unit to be added under the company's recycling equipment section, the electric aluminum can crusher will make short work when it comes to compressing aluminum cans. People will find that the can crusher plans are easy to follow and that building one takes very little time.
More people are starting to collect and redeem aluminum cans but crushing them can be a time-consuming and painful experience – especially if someone is trying to do this by hand. With the release of these can crusher plans, people will now be able to build their own electric aluminum can crusher. Within seconds, aluminum cans are crushed and dropped into a storage bag, box, trash can, or other depository, making them ready for transportation to a recycling plant. This makes aluminum can recycling easy for companies, non profit organizations, restaurants, schools, and private citizens to implement.
Although designed to be an electric can crusher, the plans can be modified to turn the unit into a hand-cranked crusher. In addition, if someone is looking for a way to save money on the construction of the unit, they can substitute the steel base for a wooden base. The aluminum can crusher has the ability to crush aluminum cans of all sizes and the plans can be adjusted to create a larger crushing chamber, if needed.
Aluminum can crusher specifications:

•weight = 50 lbs
height = 50"
width = 23"
uses electric motor = ¼ H.P. 115v/60
safety infeed chute
crushes 3,000 cans per hour
fits easily over 30 gallon garbage can
compact – requires 4 sq. ft. of floor space
The DIY can crusher is located underneath the recycling equipment tab on Gizmoplans' website and can be downloaded once payment is submitted, allowing construction to begin immediately. If people have any questions or concerns during the construction process, they can contact Gizmoplans through e-mail for free support. For more information about the aluminum can crusher and other recycling products, please visit http://gizmoplans.com/aluminum-can-crusher-plans.
About Gizmoplans:
Gizmoplans is an online informational website that provides businesses and individuals with downloadable DIY solutions. These plans can be used to build projects for recreation, hobbies, recycling, industry, woodcrafts, metal fabrication, alternative energy and much more. Gizmoplans is also a hub for businesses and individuals to upload and sell their own plans, patterns, how-to ebooks and more. This online marketplace can benefit both the purchaser and the seller in the DIY community. To get more information on DIY plans and DIY projects, visit Gizmoplan's website at http://gizmoplans.com.