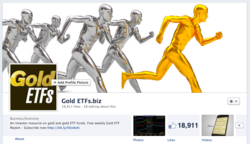 Gold ETF and stock market volatility are moving close together over the last three months.
Chicago, IL (PRWEB) August 16, 2012
Gold ETF volatility has materially decreased over the last three months reports GoldETFs.biz. Volatility is defined as the relative rate at which the price of a security moves up and down. Perhaps the more interesting finding in the piece however is that this decline has been similar in nature and timing to the decline in stock volatility.
In a new research piece entitled "Gold ETF and Stock Market Volatility Drop Together," two well known volatility indexes representing gold and stocks are compared. The CBOE Gold ETF Volatility Index and the CBOE Volatility Index seek to measure market expectations of near term volatility. This is conveyed by option prices of the SPDR Gold ETF and the S&P 500 index respectively. Over the last three months both volatility indexes representing these separate asset classes have declined in very similar fashion, which is an unusual trend according to the piece. Several charts used in the article show that both volatility indexes were at the index level of 22 ninety days ago. Today the charts show both near the index level of 15.
"To see gold ETF and stock volatility indexes behaving so similarly was a surprising find," said Christian Magoon Publisher of GoldETFs.biz. "It appears gold is behaving more like stocks, not vice versa, when it comes to recent volatility. This is likely a result of gold being considered to be less favorable than the U.S. Dollar as a safe haven investment. It will be interesting to see if this trend continues given the long term fiscal issues in the United States and the potential for more financial liquidity."
The article also examines the returns of the gold ETF and the S&P 500 during the same 90 day period. While the SPDR Gold Trust returned close to 4%, the S&P 500 delivered a return of over 5%. This was another set of data points highlighted as similar in the piece.
About GoldETFs.biz
GoldETFs.biz is a leading investor education site focused on all U.S. listed gold funds and the markets they track. It is published by ETF insider Christian Magoon. The site provides a complete gold ETF list, comparison tools and real time insight on gold through Twitter feeds. Besides the site, users can access GoldETFs.biz content on Facebook, YouTube and Google+. Follow @GoldETFsBiz on Twitter or become a fan on Facebook at /GoldETFsBiz.
About Christian Magoon
Christian Magoon is CEO of ETF consulting firm Magoon Capital. PAIR Digital, a division of the firm, publishes ETF related content including GoldETFs.biz. Having launched over 40 ETFs to date, Magoon is an ETF insider and innovator. His vision for GoldETFs.biz was to create a convenient, social and educational source of ETF information on the gold exchange traded fund segment.India fund site, IndiaETFs.com, is a sister property. Christian has been named an "ETF Pioneer" and was recently featured as "One of Five ETF Experts To Follow on Twitter." Follow @ChristianMagoon for regular investment and ETF insight.