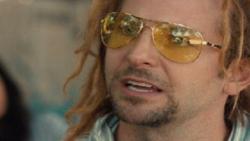 Our users are the first to see movies, and once they do..they let the world know how good it was
Los Angeles, CA (PRWEB) August 22, 2012
The most beautiful man in American film has shed his generally clean, handsome face for a more rugged Rastafarian look. In Hit and Run, Bradley Cooper's newest movie, his long flowing dreads take the clean-cut actor into hilarious, new territory. The film promises to be more funny than the Hangover and Bridesmaids combined. And while you try to wrap your mind around what exactly that strange math even means, TV Fanatic has been given the exclusive Hit and Run trailer and is inviting anyone who wants to see what this film is all about to watch it.
"This movie looks to be one of the years most hilarious," said Joel Amos, webmaster of Movie Fanatic.
The site, focused on movie news and entertainment, was given the exclusive in order to get the internet's most dedicated movie watchers to get excited about seeing the film. "TV Fanatic loves exclusive trailers because readers get content they can't get anywhere else," said Joel. "TV Fanatic's users are the movie industry's most informed, knowledgeable, not to mention important critics. They are the first to see movies, and once they do, they take to the internet to let the world know how good... or bad it was."
These reviews are instrumental in the success of modern film. And large blogs featuring movie news are becoming more and more important in making a film's debut successful. "We love being a big part of how films are distributed. TV Fanatic gets to provide a good experience to its users, and good movies like this one get a chance to be seen by people likely to appreciate them," Joel continued. "Anyone who wants to see the trailer for this new, exciting movie, we're currently featuring it on Movie Fanatic. Come see it. I think anyone who watches it will be as excited as I am to see this comic masterpiece."