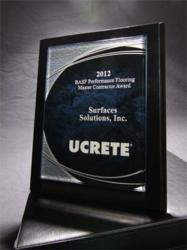 This is really great honor to be recognized this way by the industry leader in urethane flooring. We value our relationship with BASF, and it is great to receive this acheivement!
(PRWEB) August 17, 2012
Reaching this status is a worthwhile achievement, it's no small feat. It is limited to the best applicators that have partnered with BASF to provide customers with optimal flooring solutions and quality service to meet both functional requirements and aesthetic needs.
As recognition for its excellence in the installation process and for consistently providing top quality flooring services, the BASF Performance Flooring Team has awarded Surface Solutions USA Inc. with the prestigious Ucrete Master Contractor Award.
This is an achievement in which only a few Ucrete Flooring product installers, those of which are partnered with BASF, have accomplished.
Indianapolis, USA – based Surface Solutions Inc. has been installing top quality BASF Ucrete flooring and giving quality service to various big companies such as Hershey's, Kerry, Nestle, Del Monte and Tyson. This has helped establish their status in the industry as Ucrete Master Contractors.
The company, as verification to their top quality polyurethane installation services, has specialization in urethane flooring in the Food and Beverage industry, and subsequently held regular clients included in the Fortune 500 list. In addition to their top quality services, Surface Solutions Inc., offers a 5-year single source warranty as part of their dedication to their top quality and efficient services.
Surface Solutions Inc. provides companies with professional and trained people who impart their expertise into preparing for the installation process even before it begins. From its variety of pre-installation services such as core sampling to vapor testing, these concrete flooring professionals make use of only the latest and most advanced forms of testing to provide their customers with optimum performance such as perfect polymer flooring installations within the Industry of Resinous Flooring.
Asides from its pre-installation service features, Surface Solutions Inc. complies with their customer's schedule requirements to avoid obtaining significant work delays and stoppage to occur during the actual installation process. Upon the start of the installation process, the company's professional and highly experienced staff works at a quick yet highly efficient pace, thus minimizing any work or productions disruptions.
To ensure that the customer's only make use of the perfect Ucrete Flooring products, Surface Solutions Inc. accomplishes the necessary research activities such as information gathering from the customer. In addition to this the company performs extensive research on the customer's specific industry to be able to determine which Ucrete products will be ideal for the customer's business. As a legitimate and high skilled concrete floor contractor, Surface Solutions Inc. will base its recommendation from important factors such as foot traffic, type of heavy machineries used, types of industry as well as thermal shock information and the customer's budget. Upon the sufficient clientele research, the company will only then provide customers with the well researched recommendation for optimum surface floorings.
About Surface Solutions Inc.
Surface Solutions Inc. is one of the largest Industrial flooring contractors in the country and has had ample experience of over millions of square feet of Ucrete flooring installed. In 2011, the company has been awarded as the Largest BASF Performance Flooring Contractor (Selby/Ucrete). It is also considered to be amongst the most experienced companies in the industry of Industrial Flooring Contractors with SSPC Certified Consultants and in-house nationwide installation experience.
Surface Solutions provides companies with not only highly functional flooring for ample protection against chemicals and thermal conditions, it also gives importance to the flooring aesthetics. Although the end result is having sturdy, durable and functional flooring, the company provides optimum and top quality service which makes any industrial flooring in constant tip top shape while providing the working space with pleasant looking flooring.
# # #