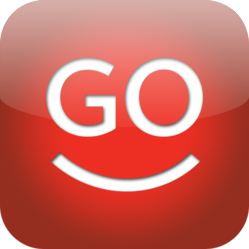 Vote for your favorite charity through SACU's new GO™ application.
San Antonio, Texas (PRWEB) August 17, 2012
SACU (San Antonio Federal Credit Union) announces GO™, the mobile app from SACU. The mobile app is saving time for members. So how are they going to spend that time?
SACU, a credit union in San Antonio, is donating the time its employees save and putting it toward projects to improve the community, called Get Go. Give Back. San Antonio residents can nominate worthy charities to receive the hundreds of hours of volunteer time, then vote for their favorite charity to receive those hours.

Nominations are open through Sunday, August 19. Download the app from the Apple Store or from Google Play and click on the app's bottom banner to nominate a favorite charity.
Then, let the voting begin. Tell family and friends to go to http://www.getgogiveback.org and vote for the favorite charity. Each person can cast one vote per day. The winning charity will receive several hundred volunteer hours provided by SACU employees.
GO is a state-of-the- art mobile app that is easy to navigate. Members can access financial information, deposit checks remotely and manage their accounts anytime, anywhere, on smart devices. Mobile devices with a Web browser can access their accounts through Mobile Online Anytime. Other phone users can use GoText to get account information through text messages. Be sure to "like" Get Go. Give Back. on Facebook.com/GetGoGiveBack and follow on twitter at @GetGoGiveBack.
SACU is a $2.9 billion credit union, with 17 locations in San Antonio and one in Houston. The credit union provides convenience to members through a network of ATM locations in the greater San Antonio area and offers benefits through competitive yields on savings, lower loan rates, and reasonably priced financial services. There are hundreds of ways to qualify for membership at SACU. Log onto sacu.com or call Member Services at (210)258-1234 or 1-800-688-SACU (7228) for information.