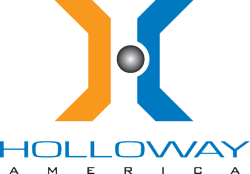 Expanding our facilities has bolstered our custom steel fabrication procedures entirely.
Springfield, MO (PRWEB) August 21, 2012
HOLLOWAY AMERICA today announced it has drastically increased its capacity for custom steel fabrication and electropolishing of pressure tanks and vessel components. The company has long been known in the fabrication industry for fine craftsmanship and innovative solutions, and it is now poised to increase its output and streamline its processes. Plant Engineer Brent Richards stated, "the expansion gives us the ability to handle vessels from overhead at any stage of fabrication, letting us work much more efficiently and ultimately saving money for our clients."
The expansion to HOLLOWAY AMERICA's pressure tanks fabrication facilities includes the company's CNC machining center. The HOLLOWAY machining center underwent a 2,000 square foot increase, complete with a 5-ton crane for overhead handling of pressure tanks and larger components. "Using the crane," Richards said, "makes working on large components and vessels much safer. Because it's no longer necessary to use fork lifts to maneuver heavy pieces, both our products and craftsmen are better protected from any risk of damage or injury."
HOLLOWAY has also increased the area of its fabrication floor by 2,000 square feet. The construction involved implementing a state-of-the-art electropolishing wash rack that will let HOLLOWAY continue polishing stainless steel pressure vessels and parts to an Ra finish of 10 or finer. The recent modifications will also more easily allow electropolishing of larger vessels.
Sales Engineer Randy Colwell notes that HOLLOWAY's clients will be particularly pleased with the improved process the expansion provides: "The upgrades have bolstered our custom steel fabrication procedures across the board. We have better waste water collection techniques and a floor plan that makes electropolishing more efficient and cost effective. Expanding our facilities is already proving to let us provide more stellar service, right down to allowing easier access for Factory Acceptance Testing (customer inspections) and cleaning before we ship products."
In addition to the 4,000 square foot increase to its headquarters, HOLLOWAY recently acquired the adjacent building, which spans 9,600 square feet. After a complete makeover to the building's offices and fabrication facilities, it is now home to HOLLOWAY's YOURSITE™ Field Services and Preventive Maintenance departments. As one might anticipate, though, many of the company's personnel are most excited about the new fabrication area. As Colwell put it, "Our fabricators are, of course, glad to have even more room to craft pressure tanks. It's one of the many services we're passionate about."
For more information on their expanded capacity for machining, fabrication and electropolishing, contact HOLLOWAY AMERICA at 417.863.0077 or by email at info(at)HollowayAmerica(dot)com.