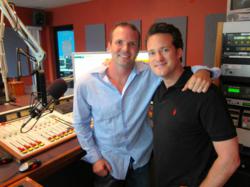 "Our goal with this event is to build upon our ongoing education campaigns for 'closet' hair loss sufferers." - Dr. Alan Bauman
Boca Raton, FL (PRWEB) August 20, 2012
Since nearly 75,000 global viewers tuned in last month to watch his live hair transplant, Kevin Rolston has become Palm Beach County's most famous hair restoration patient. Now, the lead on-air personality of WILD 95.5's "Kevin, Virginia, Jason" morning show, and nationally recognized hair transplant surgeon, Dr. Alan Bauman are reteaming for a first-of-its-kind media event, and offering the public a chance to get to meet Kevin in his first public reveal since meeting Dr. Bauman in the surgical operatory on July 11th, where Kevin was initiated into Dr. Bauman's "Follicle Fan Club."
During the rare, one-time only taping, Kevin and Dr. Bauman, will walk, talk and laugh their way through Kevin's hair transplant procedure, and reveal for the first time, to both a live Internet audience and radio listeners, what it was like to undergo the advanced hair transplant procedure and how his hairline will change! In addition to unveiling of Kevin's post-op hairline, they'll show clips from the procedure, take questions from the live studio audience and talk with listeners about Kevin's public journey with hair loss.
"This whole journey has been great fun, not just for me, but for all the listeners, viewers and fellow hair loss sufferers who joined us," Rolston said. "And the best part is, the journey isn't over, this is yet another opportunity for us to engage and educate our audience about the incredible breakthroughs in hair restoration treatments and technology that, in the hands of a qualified hair restoration expert like Dr. Bauman, can turn back the clock on our hair."
"Our goal with this event is to build upon our ongoing education campaigns for 'closet' hair loss sufferers," Dr. Bauman said. "According to conservative estimates, over 80 million American men and women suffer from hair loss. I believe the real number to be a lot higher, however, as many people with hair loss, especially women, choose to suffer in silence rathern than seek out medical treatment. This event will give South Florida residents the chance to meet us in person, hear Kevin's story, learn about the latest cutting-edge treatments and answer the hair loss questions that have been burning inside them for years."
"HAIR on the AIR" will also include a Q&A with Dr. Bauman, where he'll dish on the latest breakthroughs in research, treatments and advanced new technology like the NeoGraft FUE hair transplant process that have made hair loss an easily treatable condition! Former patients will also be on hand to discuss their own experiences with hair loss and treatment.
"Our live hair transplant event was a tremendous success, and it proves, without a doubt, the eagerness of the public to learn more about these technologies," commented Bauman. "'Hair on the Air' is another opportunity for us to answer the call."

For more information on Dr. Bauman and Bauman Medical Group, please visit http://www.baumanmedical.com or call 1-877-BAUMAN-9 or 561-394-0024. To learn more about Kevin's hair transplant, and the "HAIR on the AIR!" event, visit http://www.kevinshair.com.
About Dr. Bauman and Bauman Medical Group:
Dr. Alan J. Bauman is a surgically trained M.D. and one of only approximately 100 board-certified hair restoration physicians in the world. He is a Diplomate of the esteemed American Board of Hair Restoration Surgery, a member of the American Academy of Cosmetic Surgery and is one of only 50 doctors worldwide who is recommended by the American Hair Loss Association. He has built an international practice, treated nearly 15,000 hair loss patients since 1997, and has been extensively featured in the world's leading media in print, radio and television as a medical expert and successful early-adopter of the most advanced technologies in the treatment of hair loss. Appearances, interviews and profiles include the Today Show, The Early Show, Good Morning America, Extra, Access Hollywood and Dateline NBC among other TV appearances. Newspaper and Magazine articles and feature stories include The New York Times, Newsweek, Cosmo, Vogue, Allure, and Men's Health among others.
About Kevin Rolston & Clear Channel Radio:
Kevin is the main host of the KVJ Show, which has been entertaining listeners on their drive to work for over 11 years. Kevin tried out radio in his early 20s saying that he would "stay in the biz until he got fired" never dreaming that one day he would be the No. 1 morning show in the West Palm Beach Market. Affectionately known as "the diet pansy" Kevin is seen as the more mature, health conscious, responsible one of the trio. Originally from Ohio, Kevin has found a home in South Florida where he lives with his wife Kim and their three children. Clear Channel Media and Entertainment, with its 237 million monthly U.S. listeners, is the leading media company in America with a greater reach than any radio, digital or television outlet.
Editor's Note:
The media are invited to participate in and cover the "HAIR on the AIR!" event. Please contact the media representative for details.