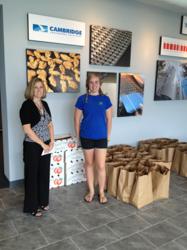 The value and quality of the product can't be beat.
Cambridge, MD (PRWEB) August 17, 2012
Cambridge International has partnered with Emily's Produce in Cambridge to offer fresh fruit and vegetable packages to employees to encourage healthy eating habits.
Cambridge is excited to be able to offer Emily's "Pick of the Patch" mid-week delivery service to bring in-season selections right to the front door of corporate headquarters. During its first week, over 35 orders were requested!
The Fresh From the Field Fruit package includes in-season varieties of peaches, watermelon, cantaloupe, apples, nectarines, blueberries, blackberries and other fruits. The Fresh From the Field Vegetable pack is also at the whim of in-season selections, including sweet corn, tomatoes, squash, green beans, lettuce, peppers, plus more.
"With a busy lifestyle, I can have a hard time remembering to incorporate fresh fruits and vegetables in my diet," says Maureen Holland, IT Manager at Cambridge. "For me the opportunity to have local produce delivered to me at work was very exciting. The value and quality of the product can't be beat."
The partnership helps Cambridge maintain its dedication to its recognition as a Platinum-Level Fit-Friendly Company by the American Heart Association, and developing the commitment to supporting other local businesses on Maryland's Eastern Shore.
To learn more about Emily's Produce, go to their website at http://emilysproduce.com/.
To learn more about Cambridge International, go to http://cambridge-intl.com/.
# # #
With a heritage that dates back to 1911, Cambridge International is a global industry leader, expanding to include three distinct divisions – Cambridge Engineered Solutions, Cambridge Architectural, and Cambridge Environmental Technologies. Based on Maryland's Eastern Shore, with five manufacturing locations around the world, the company is recognized as a pioneer in engineering and manufacturing. Employing over 400 team members, Cambridge is actively growing and expanding as it continues to develop innovative product solutions to help its customers, and are thusly poised to evolve and grow into the next century.