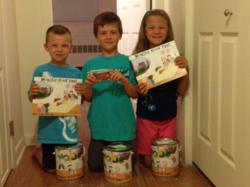 Princeton NJ (PRWEB) August 20, 2012
File this under "things they don't tell anyone about being a parent." Children don't just go peacefully into their rooms, drift off to sleep at 7:30 pm, and stay there until morning. Very often, kids start to have dreams about monsters, and they will refuse to sleep in their rooms alone. Exhausted parents will try everything to get their children to sleep—from leaving the lights on all night, to buying a special night light, sleeping on the floor of their children's rooms, climbing into their toddler beds for the night, or letting the children sleep in the parent's room.
Parenting experts all agree that nighttime fear of monsters is a natural outgrowth of the budding imaginations of young children. Here are three important steps to keep your whole family sleeping peacefully through the night.
Acknowledge a childs fear as a legitimate issue.
Don't belittle children and tell them that they're being silly. Sure it's tempting to say "that's ridiculous – there's nothing to worry about." Dismissing their fears as irrational will not make the monsters disappear, and may cause your children to be reluctant to share their fears with parents.
"When it comes to nightmares, treat their irrational fears like tangible ones," says Elizabeth Pantley, well-known parenting guru and author of six "no-cry" solution books.
Decide on a plan of action and stick to it
Some parents are willing to give in and let their kids sleep in Mommy's and Daddy's bed. This is called co-sleeping. While it may be "cozy" for the children, co-sleeping impacts the sleep and sometimes the relationship of Mom and Dad. Many pediatricians and child psychologists feel that children need to develop the important skill of self-soothing, and that co-sleeping inhibits their ability to learn this important skill. If parents decide they want to reclaim the bedroom and have children sleep in their own rooms, start with a plan of action – and be disciplined enough to carry it out. This brings us to the family remodeling project.
Make it a family affair – involve the kids in a remodeling process to "Monster-Proof" their rooms
By involving children in remodeling and "monster-proofing" their room, Mom and Dad are reinforcing their ability to overcome their fears, while at the same time respecting that their fears are real. Peter Ambrosino, founder of Monster Proof Paint™, hit upon a unique and creative solution to having the whole family sleep better. "My wife and I were on the verge of a nervous breakdown because my children would not sleep in their own rooms," explains Peter. "Each night was the same thing over and over again. The kids got scared and would sleep in our bed. One morning while commuting on the train (half asleep and exhausted from the night before) the iidea came to me—a kid's product that creates a shield and no-bad-dream zone in their bedroom. The Monster Proof Paint™ concept was born."
Peter developed a kit that can be used with any can of paint and used by families to "monster-proof" the children's bedrooms. The kit worked like a charm on his three children. "We renovated our entire second floor, creating two new bedrooms upstairs for the kids. Emma will have her own room, while Bobby and James will share a room. They love the product and wholeheartedly believe in it. I can honestly say our kids have slept peacefully through the night thanks to this idea."
The Monster Proof Paint™ kit includes a color label that transforms any brand of paint into Monster Proof Paint™, an illustrated storybook for parents and children to read together, and special non-toxic Monster Proof Powder to mix into the child's room paint. Children can be involved in choosing their own room colors. Parents then place the Monster Proof Paint™ label over the paint can, have the children sprinkle the monster-proof powder into the can, help stir the paint. The storybook can be read by the family over and over again.
Dr. Madeleine Nathan, PhD, clinical psychologist and pediatric expert, suggests that "your best bet is to empower your child by helping him find a way to transform or banish the object of his fear. Invoke the same kind of magical thinking that inspired the fear." The Monster Proof Paint ™ kit is one way to invoke that magic. It worked for Peter Ambrosino and his family.