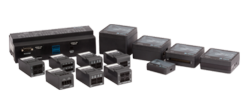 We have been looking for a control system that offers a wide variety of applications and robustness and have found this in CommandFusion
Christchurch, New Zealand (PRWEB) August 21, 2012
New Zealand audio visual distributor B&W Loudspeakers (NZ) Ltd. have today been appointed as the exclusive distributor of CommandFusion automation and control hardware. Effective immediately, this distributorship ensures that New Zealand integrators and DIY enthusiasts will have local supply and support of the powerful CommandFusion hardware product range.
"James Harding and the team at B&W Loudspeakers (NZ) Ltd. have a long track record of distribution and support in this industry and we strongly believe they will be able to support integrators in New Zealand well. We look forward to a long partnership with them." said Jarrod Bell, Co-Founder, CommandFusion.
Since release, the CommandFusion hardware range has been steadily growing in popularity. It represents a culmination of three years of development by the research and development team. The hardware utilises a modular design ensuring that all system sizes from a single room up to an entire campus are cost effective and suited to any unique requirements. Already successful in the home automation industry, CommandFusion products have also been quickly gaining ground in the commercial and industrial automation and control sectors. CommandFusion believes in openness: software and hardware protocols are fully published - allowing integrators to mix control systems within a job to suit their requirements and budgets.
B&W Loudspeakers (NZ) add CommandFusion hardware to their already impressive product range including Marantz, Cerwin Vega and of course the renowned Bowers & Wilkins Loudspeakers. CommandFusion brings a control system to tie the other product lines together - allowing for seamless, automated control of almost any system from an iOS/Android device or other control interfaces. B&W Loudspeakers (NZ) strive to provide a quality service and have been involved in some of New Zealand's leading AV projects, they are also heavily involved in many current projects with the rebuilding of Christchurch being in full swing.
"I am extremely excited about the new partnership between B&W Loudspeakers (NZ) Ltd and CommandFusion." Said James Harding, Business Manager at B&W Loudspeakers (NZ) Ltd. "We have been looking for a control system that offers a wide variety of applications and robustness and have found this in CommandFusion"
About CommandFusion
Founded in Melbourne, Australia in 2005 as GuiLink then renamed CommandFusion in 2011, the company has been selling it's flagship software product (CommandFusion iViewer) for iOS since 2008. Renowned for it's flexibility and versatility, iViewer is now available for both iOS and Android platforms. The company has been working on the hardware product line since 2008. With a small, dynamic and driven international team made up of individuals from the automation, software and hardware fields, CommandFusion strives to offer the best support and fastest innovation turnaround in the industry.
About B&W Speakers (NZ) Ltd.
B&W Loudspeakers (NZ) Ltd. Was founded in Christchurch, New Zealand in 1993 as the exclusive supplier of Bowers & Wilkins in New Zealand. Under this umbrella, B&W Loudspeakers (NZ) Ltd is also proud to distribute other complementary premium Audio Visual brands and equipment such as; Classe, Marantz, Cerwin Vega and Audioquest.
Unlike many other companies that collect brands for the sake of it, B&W Loudspeakers (NZ) Ltd chooses to only market and distribute brands that meet it's quality requirements and that complement it's current stable of products and distribution network.
CommandFusion Automation Hardware is available in New Zealand from Bowers & Wilkins http://www.bwspeakers.co.nz