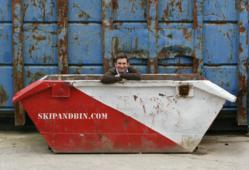 5 out of 10 of the worst areas for fly-tipping in the UK are London borough's
London, England (PRWEB UK) 21 August 2012
Skip permits are charges imposed by local councils for placing a skip on a public road. Skipandbin.com, who provide a free tool for checking the skip permit price in your local authority area have just updated their London borough skip permit prices for 2012 showing that over 50% of councils increased the price of their skip permits in the past year, some by as much as 28%.
Jason Mohr, MD of SkipandBin.com said of the figures;
"Few people would argue with the council charging a fee to residents and construction firms for using public roads but between the increases in permit prices we've seen for Londoners this year and the Landfill tax changes which have also impacted on the cost of hiring a skip its been a bad year for skip hire prices – which can only lead to an increase in fly-tipping – an activity which costs far more for councils to clean up than they can ever recoup through skip permits."
Mohr, who also owns junk removal specialists AnyJunk, claims that according to a recent report on fly tipping, 5 out of 10 of the worst areas for fly-tipping in the UK are London borough's and the high cost of skip permits is contributing to the poor performance of the capital in dealing with the problem, compared to other parts of the UK.
The most expensive London borough for skip hire permits in 2012 is unsurprisingly Kensington and Chelsea at £81, followed by Westminster and Redbridge at £78 and £75 respectively.
The borough of Barnet saw the greatest increase in skip permit prices compared to 2011 going up from £39 to £50 for a 2 week period, an increase of £11 or 28% year on year.
In addition to skip permit costs many councils also levy further charges for 'parking' of skips and administration fees for the issuing of permits. Most also have a minimum issuing period, so even if you need a skip for 2 days you have to buy a 2 week licence. Others like the Borough of Croydon charge a credit card processing fee for issuing skip permits.
In what has been a difficult summer for skip hire companies in London, many councils such as Camden, have also imposed restrictions on the issuing of skip permits during the Olympics.
Mohr went on to say;
"Obviously the Olympics have been a great success for the city and the clear roads policy in certain borough's has helped to ensure things have run smoothly but I think a lot of skip hire companies feel that local councils are working against them and failing to appreciate that efficient waste removal is an important part of the infrastructure and economy of London."
Skip hire customers can check up to date skip permit prices in their borough using SkipandBin.com's free skip permit price search tool at http://www.skipandbin.com/skip-permits/
For full data on skip permit prices and interview requests please email London@skipandbin.com or call Tim Witcomb on 020 7819 9019.