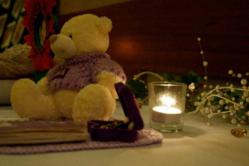 We should all care when a baby or child dies.
(PRWEB) August 22, 2012
Losing a child is the most devastating event parents can ever experience and most health professionals are not equipped to best address the grieving parents. The lack of attention, support, and education regarding the death of a child is the reason for the semi-annual conference, "Transformative Nature of Grief", being held in Tempe, AZ on October 4-6, 2012.
The event hosted by the MISS Foundation is devoted to helping bereaved parents connect with one another. In addition, it will also provide much needed training and support to health care providers who work in the field of traumatic death and loss. Over 120,000 children die every year in the United States. Of those, more than 80% die before their first birthday.
"Every person on earth will be affected by the death of a loved one. And in particular, the death of a child family member affects individuals, families, and entire communities. We should all care when a baby or child dies," states MISS founder Dr. Joanne Cacciatore.
Seminars, panels, and lectures over the three-day conference will explore personal death experiences and provide an opportunity to collaborate and network with others in the field. The conference objective is to inform on issues related to compassionate psychosocial care, evidence-based practice, and to explore meaning-making in the aftermath of loss.
"This is a place where bereaved parents, siblings, grandparents, and providers around the world come together to remember, explore, learn, share, and grow. Because we are a death-and grief-aversive culture, often those mourning traumatic losses feel alone, isolated and lonely. Few experiences are as life changing as this conference, connecting grieving people to one another in compassion, support, and civic love."
The conference will feature keynote speakers economist, Dr. Melanie Fox who will explore the cost of traumatic grief to society, psychiatrist, Dr Peter Breggin who will teach about the power of empathy in therapeutic relationships; Dr. Robert Neimeyer psychologist, who will explore how individuals cope and make meaning from loss; and author and Pulitzer prize winning journalist, Robert Whitaker who will talk about why its important not to medicalize normal grief.
The MISS Foundation is a 501(c)3, volunteer based organization committed to providing crisis support and long term aid to families after the death of a child from any cause. MISS also participates in legislative and advocacy issues, community engagement and volunteerism, and culturally competent, multidisciplinary, education opportunities.