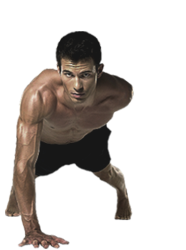 Le Male Workout is the answer for all those fitness enthusiasts looking for a great workout that is effective and that men can truly enjoy
New York City, NY (PRWEB) August 21, 2012
Building upon a vast experience of over 20 years in the fitness industry as well as a huge knowledge of the human anatomy due to a successful medical career, Joschi Schwarz - owner of Le Male Yoga in New York City - created Le Male Workout. The innovative, intense and results-driven Workout Program is designed expressly around and for the male physique and incorporates the four basic aptitudes: strength, power, agility and flexibility. Most men spend years training hard at the gym without seeing any real results. Schwarz developed this effective full-body conditioning program, updated for our modern lifestyles, to get lean, long and strong muscles and a fully functioning and conditioned body.
Men go to the gym for many reasons and most men stick to a structured workout routine at the gym, but often times hit plateaus and get bored with the same exercise regimen over and over again.
Le Male Workout is constantly varied and includes a full selection of exercises from different disciplines as well as all the basic movement patterns like squatting, lunging, pushing, pulling, bending, and twisting. Le Male Workout's key to success is integration coupled with multi-plane and multi-directional movements. Le Male Workout trains all the muscles to work together in synergy, which can be especially beneficial for men, whose workouts often emphasize a part-by-part approach to muscular development. It teaches the big muscle groups to work with the smaller stabilizing muscles to achieve ideal range of movement in all joints. The overall goal is to increase athleticism through high intensity, functional movement and total body integration.
Getting a great workout is something that shouldn't be difficult to find, however, reality is it can be a challenge to find the right program, especially for men. Joschi Schwarz created Le Male Workout because as a serious fitness enthusiast he couldn't find something effective that men can truly enjoy and that gives them the results they want. Le Male Workout is his answer.
About Joschi Le Male
NYC's Premier Yoga Studio for Men. Le Male Yoga's style of yoga - Vinyasa (Flow) - is for men with a good level of physical fitness who are interested in building strength & flexibility and enjoy a unique opportunity to connect with a vibrant mix of men from all flows of life who are looking to initiate a lifestyle that liberates, expands and energizes!
It is Le Male Yoga's mission to unite men in a comunity of support, inspiration, and camaraderie; to foster friendship by offering a fun, judgment-free atmosphere.
In line with the goal of creating an open, inclusive environment for gay and straight men and their families, La Female friendly, some of the classes are co-ed, so members can share your experience with their best friend, their sister, their confidant...
As an experienced and internationally recognized Yoga Alliance Registered School Joschi Schwarz and Monika Werner are dedicated to share their knowledge with men and women in Yoga Teacher Training Certification Programs.