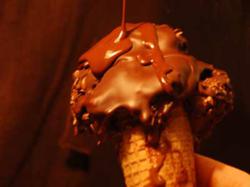 His chocolate flavors include a Gianduja 'extra' – a hazelnut gelato served with his 'hazelshock' in a cone with melted chocolate and crushed hazelnuts
(PRWEB) August 23, 2012
This fall's Ecole Chocolat's Masters Program in Italy promises to be inspirational for professional chocolatiers wishing to upgrade their skills and learn the secrets of fine Italian chocolate making, says Program Leader Judy Witts.
Witts, who owns and operates Diva Cucina, a cooking school in Florence, Italy, is a long-time resident whose cooking, teaching and writing have made her a renowned expert in Italian food and cooking.
"We are lucky to work directly with the Chocolate Master of the ICAM Choco Scuola. The hands-on program on site at the factory gives us a chance to learn Italian-style chocolate making and flavor combinations. It is quite an intensive program," says Witts.
The program is aimed at Ecole Chocolat graduates and those with equivalent professional chocolate experience and takes place from Oct. 28-Nov. 3, according to Ecole Chocolat Founder and Head Instructor Pam Williams.
"In 1946, Silvio Agostoni, together with his wife and two brothers, set up a small company, ICAM, for the production of chocolate. Along with expanding their chocolate production with a focus on quality, ICAM has established itself as one of the most important organic chocolate manufacturers in the world. ICAM's chocolate is used by the top cioccolaterie and pastry chefs in Italy," Williams explains.
"Our hands-on work in the laboratory at the ICAM Choco Scuola will be focused on the professional praline program, which takes place right after Eurochocolate, so participants can extend their itinerary to include Italy's most famous chocolate festival if they want," Williams says.
But it isn't all work and no play, Williams says. "The program also includes travel to Milan and Turin to visit important Italian chocolatiers in their cioccolateria and laboratories. We'll have a chance to see and taste what the best of the best are producing there."
Among the treats sure to appeal to participants is a scoop of true Italian gelato, an icy treat that dates back to Roman times.
One of Italy's top chocolatier, Guido Gobino in Torino, "has the most elegant gelato service and original pairings," says Witts. "His chocolate flavors include a Gianduja 'extra' – a hazelnut gelato served with his 'hazelshock' (an intense gianduja in powder form Gobino created this year) in a cone with melted chocolate and crushed hazelnuts. Stracciatella ( chocolate chip) has his 75% extra bitter chips and his Strong Extra Bitter is for those looking for full chocolate immersion with bitter sweet chocolate gelato streaked with cocoa nibs."
And although gelato is a year-round treat in Italy, where many aficionados do not consider a day complete without at least one scoop of the creamy confection, its presence in North America is beginning to rival traditional ice cream as a cooling summer treat. And with August bringing record temperatures across North America, what better time for a big scoop of transcendent frozen chocolate.
Here's a recipe for chocolate gelato developed in the Ecole Chocolat kitchens, with coaching from Witts who suggested the addition of a bit of crunchy sea salt. The results are dynamite. The recipe calls for milk rather than cream, and corn starch replaces egg yolks as a thickener, so it is a lower-fat, healthier version of regular full-fat ice cream. Enjoy!
Dark Chocolate Gelato With Sea Salt
Ingredients:
3 cups whole milk, divided
1/2 cup sugar
3 tbsps. cornstarch
1 tbsp. finely powdered cocoa
7 oz. fine quality dark chocolate (50% or higher cocoa content)
3/4 tsp. flaked or finishing sea salt
Method:
Bring 2 1/4 cups milk just to a boil in a 4-quart heavy saucepan. Meanwhile, whisk together sugar, cornstarch, cocoa, then add 1/4 cup cold milk in a small bowl land whisk until smooth. Once milk in saucepan is boiling, whisk in cornstarch-sugar mixture and bring to a boil over medium heat. Boil, whisking frequently, for 2-3 minutes until mixture bubbles and is very thick. Remove from heat.
Bring remaining 1/2 cup cold milk just to a boil in a small saucepan over medium heat. Pour hot milk over chocolate in a bowl and let stand until chocolate is melted, about 1-2 minutes. Whisk until smooth.
Stir into cornstarch-milk mixture until thoroughly blended. Pour into a bowl and let cool slightly, about five minutes, stirring frequently to prevent a skin from forming. Cover surface with wax paper or plastic wrap and chill in fridge until completely cold, 2-3 hours. Stir in salt right before pouring into ice cream maker.
Stir and freeze mixture in ice cream maker according to manufacturer's directions; transfer to an airtight container and freeze until hardened, about 3 hours. Let soften 5 minutes before serving. Makes about 1 quart.
Founded in 2003, Ecole Chocolat Professional School of Chocolate Arts offers a portfolio of programs for chocolate making – mastering techniques while gaining the expertise and business knowledge needed to become a professional chocolatier or chocolate maker. Ecole Chocolat's founder Pam Williams is the recipient of the Award of Excellence in Service to the Industry from the Fine Chocolate Industry Association. See our website: http://www.ecolechocolat.com