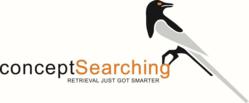 Concept Searching has significant expertise both in the commercial and DoD sectors, where the technology is deployed both on the NIPR and SIPR networks
McLean, VA, US and Stevenage, UK (PRWEB) August 21, 2012
Concept Searching, a global leader in semantic metadata generation, auto-classification, and taxonomy management software, and developer of the Smart Content Framework™, has been selected as a Microsoft US Federal Managed Partner. Concept Searching is a Microsoft Gold Certified ISV and this status illustrates our joint commitment. Concept Searching has also attained Microsoft Silver ISV Competency in Search, Portals and Collaboration, and Content Management under the revised and stringent Microsoft Partner Network.
This managed program identifies Microsoft partners who have achieved certain goals, and is designed to help partners expand their business and their relationship with Microsoft. Organizations that are accepted as managed partners are provided with dedicated Partner Account Managers, who are committed to helping the partners achieve their objectives. The qualifications for program selection are based on having partners who provide unique software solutions, have an established reputation in the Federal space, and have a flagship product on the Microsoft platform.
"Concept Searching is delighted to have been selected as a member of the Microsoft US Federal Managed Partner Group. We highly value our close relationship with Microsoft and their dedicated assistance to meeting joint objectives," said Martin Garland, President of Concept Searching. "Our Smart Content Framework™ infrastructure technology and our flagship product, conceptClassifier for SharePoint, not only provide unique industry functionality, but also run natively in the SharePoint environment. Our continued rapid growth is due in part to our Microsoft support and relationship."
"Concept Searching has significant expertise both in the commercial and DoD sectors, where the technology is deployed both on the NIPR and SIPR networks, and has an enterprise Certificate of Networthyness (CON) with the US Army and an enterprise Authority to Operate (ATO) with the US Air Force," concluded Garland.
Going beyond a technology solution, Concept Searching's Smart Content Framework™ for information governance is a platform independent toolset that provides the enterprise framework to mitigate risk, automate processes, manage information, protect privacy, and address compliance issues.
Underlying the Smart Content Framework™, the technologies provide the ability to transparently tag content, classify it to organizational taxonomies, preserve and protect information through the automatic identification of records and privacy data, and act as a migration tool. The result is one set of technologies that improves search, provides an enterprise metadata repository, automates records management, ensures compliance, protects and secures data, and facilitates migration.
Follow Concept Searching: http://www.twitter.com/conceptsearch
About Concept Searching
Founded in 2002, Concept Searching provides software products that deliver conceptual metadata generation, auto-classification, and powerful taxonomy management from the desktop to the enterprise. Concept Searching, developer of the Smart Content Framework™, provides organizations with a method to mitigate risk, automate processes, manage information, protect privacy, and address compliance issues. This infrastructure framework utilizes a set of technologies that encompasses the entire portfolio of unstructured information assets, resulting in increased organizational performance and agility.
Concept Searching is the only platform independent statistical metadata generation and classification software company in the world that uses concept extraction and compound term processing to significantly improve access to unstructured information. The Concept Searching Microsoft suite of technologies runs natively in SharePoint 2007, SharePoint 2010, SharePoint 2013, FAST, Windows Server 2008 R2 FCI, and in Microsoft Office applications.
The building blocks of Concept Searching's Smart Content Framework™ are being used by organizations from a diverse number of industries including the US Army, the US Air Force, the UK MOD, Baker Hughes, Deloitte, Logica, NASA Safety Center, OppenheimerFunds, Point B, Perkins+Will, Parsons Brinckerhoff, Burns & McDonnell, MarketResearch.com, the US Department of Health & Human Services, Transport for London, the London Fire Brigade, the National Transportation Safety Board, and Xerox.
Headquartered in the US with offices in the UK, South Africa and Canada, Concept Searching solves the problem of finding, organizing, and managing information capital far beyond search and retrieval. The technologies are being used to improve search outcomes, enable effective records management, identify and secure sensitive information, improve governance and compliance, add structure to Enterprise 2.0, facilitate eDiscovery, and drive intelligent migration. For more information about Concept Searching's solutions and technologies please visit http://www.conceptsearching.com.
All product and company names herein may be trademarks of their respective owners.