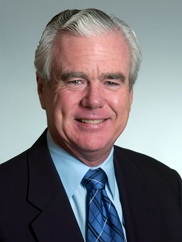 You don't sneak up on culture. Cultures often resist what they need. Momentum, energy and critical mass are needed to engage all employees.--Jim Hart, Senn Delaney president and CEO
Los Angeles, CA (PRWEB) August 27, 2012
Changing organizational culture is one of the biggest challenges businesses face today, but when done correctly, it can create significant competitive advantage. In a new video for business leaders, Jim Hart, president and CEO of the culture-shaping consulting firm Senn Delaney, describes the four key principles of successful culture transformation proven from decades of research and field work with companies around the globe. The video is part of Senn Delaney's series of expert best practices in culture change on its new thought leadership video channel, SDTV.
"Most CEOs know that culture is a critical business driver, but more often than not, they don't know that there is a proven process to shape a culture," states Hart. "Cultures happen by default or design. Leading the culture of an organization, whether it is a small company or a global corporation, is a critical factor in effective execution of the strategy. The most agile corporate culture can create a big competitive advantage and even have a positive impact on the bottom line. Unhealthy cultures can be a significant drag on business results," Hart adds.
Watch the video with Jim Hart on four principles of shaping culture
In the video, Hart notes that successful, sustained and measurable shifts corporate culture require a complete and comprehensive system of change, with an awareness of and a focus on four principles:
1) Purposeful leadership
The CEO and senior leadership must own and lead the culture-shaping process. "Culture change has to begin with leaders having a clear, compelling purpose for themselves and their organization, coupled with a strong business rationale to inspire a Thriving organizational culture," says Hart.
The process needs to be supported by resources and a systematic execution plan, like any other business strategy. Leaders cast a powerful shadow; therefore, the culture needs to be explicitly defined via values and behaviors and modeled by the senior team, he notes.
2) Personal change
"People need to unfreeze existing habits and make personal behavior change. This occurs on an emotional level that is achieved through insight-based learning. This unfreezing process is best accomplished in natural work teams to shift thinking and reinforce change," Hart states. Employees at all levels of an organization need to understand the why the culture is being shaped they need to be clear on the 'from and to' of the journey and what's in it for them.
3) Broad engagement with energy, momentum and mass
"You don't sneak up on culture. Cultures often resist what they need the most," states Hart. Momentum, energy and critical mass are needed to engage all employees. The faster people are engaged in the process, the higher the probability the culture will shift, Hart states. A broad group of active, visible leaders needs to engage all employees, top to bottom, in shaping the desired culture.
4) Focused sustainability
Shaping a culture is not a one-time event. It requires a methodical, comprehensive and integrated approach to shifting a company's culture from the top to the bottom, Hart notes. Systematic reinforcement of the desired behaviors and values is needed at the individual, team and the organization level. Institutional practices, systems, performance drivers and capabilities need to drive toward the desired culture — including, but not limited to: communication, training, measurement, rewards and reinforcement, performance management and HR practices, and physical layout. Visible application, measurable results with feedback and coaching, rewards and consequences are needed to make the culture real and create accountability.
"Companies that have followed these key principles of culture shaping using our organizational engagement process have been quite successful in creating cultures with all employees operating at their best from top to bottom and have experienced many important benefits."
About Senn Delaney
Founded in 1978, Senn Delaney is widely recognized as the leading international authority and successful practitioner of culture shaping that enhances the spirit and performance of organizations. Senn Delaney's passion and singular focus on culture, combined with decades of hands-on experience, has resulted in a comprehensive and proven culture-shaping methodology that engages people and measurably impacts both the spirit and performance of organizations.
Visit Senn Delaney's new thought leadership video channel, SDTV, at http://sdtv.senndelaney.com for expert advice on best practices in culture shaping, CEO interviews on leadership and leading culture, client success stories and more.