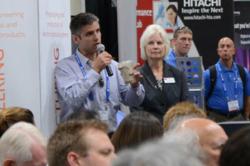 These enabling technologies are applied either directly or indirectly in generating more than 1.5 million jobs in the U.S.
SAN DIEGO, California, and BELLINGHAM, Washington, USA (PRWEB) August 21, 2012
The report is out. Now it's time to spread the message about the field's economic magnitude and wide influence on daily life, said the co-chairs of the National Academies (NA) report "Optics and Photonics, Essential Technologies for Our Nation," at the first public briefing on the report following its release early last week.
Co-chairs Paul McManamon (University of Dayton and Exciting Technologies) and Alan Willner (University of Southern California) joined Erik Svedberg of the National Research Council and SPIE industry experts in briefing an overflow audience in the exhibition hall Wednesday 15 August during SPIE Optics and Photonics in San Diego. The briefing was hosted by SPIE, the international society for optics and photonics.
Calculating the amount of revenue and the number jobs related to optics and photonics is difficult, noted SPIE Industry Analyst Stephen Anderson. But it is clear that these enabling technologies are applied either directly or indirectly in generating an estimated 10% of total public-company revenues within the U.S. and more than 1.5 million jobs, he said.
Much of this activity comes from smaller firms, Anderson said, and the potential for more economic growth is substantial.
Applications noted as key areas for innovation in the "Optics and Photonics" report include flexible displays, next-generation solid-state lighting, sensors for wide-ranging applications such as automobile safety and climate monitoring, novel materials for solar-energy and medical diagnosis, and additive manufacturing – 3D "printing" of items such as precisely machined airplane parts and microscope lenses.
"Optics and photonics will be essential in the technology future of our nation and our planet -- applications are ubiquitous," said SPIE CEO Eugene Arthurs. As a recent example from his own life, he cited routine tests for jaundice in newborns. Arthurs pointed out that photonics is everywhere in the $1.2 trillion spent globally in research, including the photonics detectors that were key to the recent identification of the Higgs Boson particle.
Arthurs, who with I.C. Khoo of Pennsylvania State University was credited by Willner for providing impetus to get the report started, endorsed the National Academies' recommendation for establishing a National Photonics Initiative (NPI).
Arthurs noted the success that Germany, Taiwan, Canada, the United Kingdom, and European Union have attained through establishing such initiatives, and pointed to the public-private partnerships fostered and created through organizations such as Photonics21 as powerful drivers. Photonics21 is a European not-for-profit organization with association members such as SPIE as well as large and small companies and governmental representatives.
Willner said that the NPI is envisioned as a high-level framework engaging industry, government, and academia in significant roles, driven by "vision, strategy and money." He stressed that long-term commitment to financial backing is key, and that government should "provide the glue."
"They're already doing a lot of photonics," he said. "It pops up in different forms but not in any strategic way whereby the whole community can thrive over many years. The key is to get your CEO, along with many other CEOs, to come to the table in Washington to say, 'I'm going to make a long-term commitment,' and include the entire community, from research to development."
Speakers and audience members emphasized the pervasiveness of photonics.
Lasers are widely used in manufacturing as well as in computer processing. They also have a multitude of applications in space missions such as the Mars Curiosity -- for example, cutting into rocks to assess age, composition and other factors; guiding the vehicle's direction; carrying images back to Earth. Space missions in turn are the genesis of medical technologies, communications systems, and other applications in everyday life.
SPIE Education Committee chair Marc Nantel, who heads a photonics program at Niagara College, noted with others that the shortage of workers for available jobs touched on by the report has a serious economic impact. Without skilled workers, companies cannot take on new projects and the business goes elsewhere.
Student scores in math and science in the U.S. are slipping below other regions', and the resulting declining number of graduates in STEM (science, technology, engineering, and math) fields is reducing competitiveness.
With the report complete and made public, now "it's time to evangelize," McManamon said.
Access a link to the digital report, a video of the briefing, and a PDF of the report summary at opticsandphotonics.org.
About SPIE
SPIE is the international society for optics and photonics, a not-for-profit organization founded in 1955 to advance light-based technologies. The Society serves nearly 225,000 constituents from approximately 150 countries, offering conferences, continuing education, books, journals, and a digital library in support of interdisciplinary information exchange, professional growth, and patent precedent. SPIE provided over $2.7 million in support of education and outreach programs in 2011.