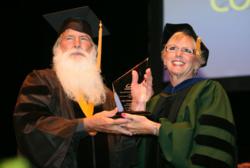 Irvine, CA (PRWEB) August 23, 2012
California Southern University is pleased to name Dr. John Galaska, a 2012 graduate of the university's Doctor of Psychology program, recipient of the inaugural President's Award for Doctoral Project Excellence.
Dr. Galaska's doctoral project is titled Neurofeedback: At the Juncture of Psychology and Physiology. It explores some of the latest developments in the emerging science of interpersonal neurobiology, a science that is beginning to erase compartmentalized, theoretical approaches to clinical psychology, while providing a framework to better understand personality—and to facilitate its repair.
"I am honored and humbled to receive this award," says Dr. Galaska, who practices hypnotherapy and neurofeedback in Ojai, California. "This project has changed my relationship with myself in that it has helped me realize that at 65 years old, I have the capacity and capability to change. I now look forward to doing my best to change the world, one relationship at a time."
Other President's Award finalists were Dr. Bradley Lord (Songham Taekwondo: A Precept to Adolescent Leadership Development and Associated Changes to Psychological Constructs) and Dr. Penny Marcus (Discovering the Unique Way the Arts Help Trauma Victims).
"Dr. Galaska's work is truly exceptional and we are thrilled to recognize it with this award," says Dr. Caroll Ryan, President of CalSouthern. Dr. Ryan presented the award August 4 at CalSouthern's 34th annual commencement ceremony, held at The Irvine Barclay Theatre. "The work of each of the three finalists represents doctoral projects at their best. They are creative. They have a positive impact on people and on communities. They are infused with humanity. Drs. Galaska, Lord and Marcus are a wonderful representation of CalSouthern and its School of Behavioral Sciences."
Founded in 1978, California Southern University is a premier, accredited online university offering degree programs at the associate, bachelor's, master's, and doctoral levels in business, law, criminal justice, and psychology to an international student body, utilizing a proprietary online learning system. CalSouthern is accredited by the Accrediting Commission of the Distance Education and Training Council. The Accrediting Commission of the Distance Education and Training Council is listed by the U.S. Department of Education as a nationally recognized accrediting agency. The Accrediting Commission of the Distance Education and Training Council is a recognized member of the Council for Higher Education Accreditation. To learn more about CalSouthern, please visit http://www.calsouthern.edu.
http://www.calsouthern.edu/content/press-releases/california-southern-university-names-recipient-of-inaugural-presidents-award-for-doctoral-project-excellence/