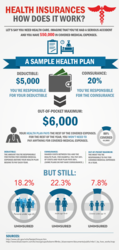 Lyons, New York (PRWEB) August 22, 2012
Finding affordable health care is important to the 22.3 percent of uninsured Americans between the ages of 18-64, but in an age of social networking they need a simple, online option. 2Health Insurance is the first group to embrace the online community and make shopping for health insurance accessible for the 'connected generation'.
An Easy System for Comparing Insurance Plans Online
In an age of connectivity people are flocking to the internet for all of their needs, health insurance included. 2Health Insurance has quickly filled this demand with a user-friendly interface that allows consumers to quickly search quotes from a variety of health care providers and sort through to see which one works best for them.
2Health Insurance has gone out of their way to simplify what used to be a very time consuming endeavor. Gone are the days of going for in person consultations with every insurance provider in your area just to find out which one would give the best quote, thanks to 2Health Insurance you can do what used to take a week with one simple click.
Providing a Wide Variety of Insurance Types for Any Situation
On their website at 2HealthInsurance.net the team is not simply providing quotes on individual insurance; they offer a wide variety of insurance types that fit many situations. Family insurance, small business insurance, expatriate insurance, travel insurance and dental insurance are some examples of the ways 2Health Insurance has you covered when you use their services. With the overwhelming demand for this kind of service 2Health Insurance has decided to make their website available for use in every state.
Partnered With Some of the Best Names in Health Care
A site offering to source health insurance quotes is only as reliable as the names of the health care providers they compare. 2Health Insurance has gone out of their way to only partner with the best and most secure providers of health care. Aetna, MVP Health Care, Humana One, United Health One and CareFirst BlueCross BlueShield are a sampling of the giants of health care that can have their plans compared through 2Health Insurance. When you compare with this site you do not have to worry about being sent to a non-trustworthy health care provider that you may never have heard of before.
ABOUT 2HEALTH INSURANCE
2Health Insurance was founded as a way to provide the American public with a source of reliable information on health care from industry insiders. 2HealthInsurance.net is a one stop shop for any consumer interested in finding the most affordable health care in their area with only a few clicks. By applying an innovative search and compare function to health insurance and being social media friendly, 2Health Insurance have established themselves as the go to site for the new tech savvy generation of consumers. Their goal is simple: provide information for the uninformed and affordable options for the uninsured. For more information visit http://2healthinsurance.net.