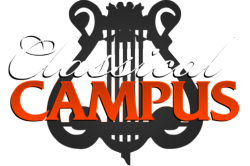 Napa, CA (PRWEB) August 27, 2012
The highly anticipated Classical Music Campus will launch on September 19th, ArtistWorks announced today. This first-ever online, interactive classical music school features unparalleled, classical music instruction from world-renowned teaching artists in five core orchestral instruments including flute, trumpet, clarinet, violin and French horn. Also included in the new Classical Campus are current ArtistWorks classical piano and classical guitar schools.
ArtistWorks Classical Campus teaching artists include Jeffrey Khaner (Principal Flutist, Philadelphia Orchestra, Curtis Institute); David Bilger (Principal Trumpet, Philadelphia Orchestra, Curtis Institute); Ricardo Morales (Principal Clarinetist, Philadelphia Orchestra, Curtis Institute, Juilliard, Temple University); Bill Caballero (Principal French Horn, Pittsburgh Orchestra, Carnegie Mellon University School of Music), Nathan Cole (Violin, First Associate Concertmaster, Los Angeles Philharmonic); as well as guitarist Jason Vieaux (Curtis Institute, Cleveland Institute of Music) and pianist Christie Peery Skousen (Peabody Institute).
Providing personalized online feedback via ArtistWorks' Video Exchange™ Accelerated Learning Platform, the ArtistWorks Classical Music Campus orchestral teaching artists are all principal performers within their respective orchestras. In addition, most are instructors at various ultra exclusive music schools including Juilliard, Curtis Institute and the Carnegie Mellon University School of Music among others. Previously, direct access to these prestigious teaching artists was virtually unobtainable, owing to the fact that admissions to most of these top-flight schools afford the opportunity to study directly with these virtuoso artists to fewer than 10 students per year.
Designed for aspiring classical musicians, the ArtistWorks Classical Campus provides core curriculum in the form of video lessons, covering the essential playing habits that build top-flight technique for all levels of players. Most importantly, these video lessons cover the etudes, and orchestral excerpts that musicians need to perfect for competitions or university, conservatory or professional orchestra auditions. In addition to video lessons representing the teaching artists life's work, subscribing students can use their webcam, phone or other video device to show their instructor their progress. The teaching artists then provides personalized video responses with critique and comment on technique as well as priceless insight and the "inside track" on what is required in the highly competitive audition process. These interactions are available for all students to see and learn from. This new online approach represents a virtual master class where every participant gets personalized attention from the master.
Subscriptions to the ArtistWorks Classical Campus Orchestral schools are reasonably priced at $299 for 3 months, $499 for six months and $699 for 9 months. Subscriptions to classical guitar and classical piano schools are priced at $90.00 for 3 months, $150.00 for 6 months and $240.00 for a 12-month subscription.
About ArtistWorks, Inc.
Founded in 2008 by former AOL executive David Butler, ArtistWorks, Inc. is a Napa California-based technology and music education company that provides a global online learning community of world-renowned artists and enthusiastic amateurs dedicated to unleashing the music that lies within all of us. Its Video Exchange Accelerated Learning Platform enables virtuoso musicians to "teach the world" by presenting their full method, technique or lesson list in HD video to subscribing students. Utilizing simple web cams, iPhones, iPads and more, students are able to submit videos for individualized video feedback and guidance - creating a two-way, online learning experience
ArtistWorks currently offers schools from such world-class, virtuoso artists as: Paul Gilbert (rock guitar lessons); Martin Taylor (fingerstyle guitar lessons); Jason Vieaux (Classical guitar lessons); Andreas Oberg (jazz guitar lessons); Nathan East (pop & rock bass lessons), John Patitucci (jazz bass lessons), Howard Levy (harmonica lessons); DJ Qbert (DJ lessons); Christie Peery (piano lessons); Thomas Lang (rock drum lessons); Billy Cobham (jazz and fusion drum lessons); Luis Conte (percussion lessons); as well as the ArtistWorks Academy of Bluegrass with Tony Trischka (banjo lessons); Missy Raines (double bass lessons); guitar player Bryan Sutton (flatpick guitar lessons); Andy Hall (dobro lessons); Mike Marshall (mandolin lessons); and Darol Anger (fiddle lessons).
For additional information please visit: http://www.artistworksclassical.com.