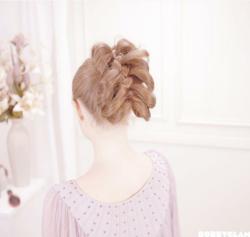 Sammy says: "Oh, I adore the heart braid. It's super, super cute and very girly. Heart braids are perfect festival hairstyles for those of you who still like to leave some of your hair loose."
(PRWEB) August 29, 2012
BobbyGlam Hair Extensions announce their top three on-trend festival hairstyles for this season.
With festival season in full swing, BobbyGlam say it's time to start thinking about the perfect on-trend festival hairstyles to make a statement this summer; they have selected their three favourite styles and they give tips on how to achieve these looks.
BobbyGlam introduce the boney braid as the first of the on-trend festival hairstyles for this season. The boney braid is an eye-catching and unique hairstyle that keeps the hair off the face for the festival season. Plaits and braids have been a popular trend amongst celebrities in 2012, so the boney braid is an ideal style for including this hair trend for a festival look.
Sammy from BobbyGlam says: "We just love how different the boney braid is. It's quick and easy for festival, but it also looks fantastic and will make a real statement. You're sure to stand out with this look."
Sammy continues: "Fear not if your hair isn't long enough for this style to work though, you can clip in your BG hair extensions first for added length and thickness. You may want to play around with the placement of your clips to ensure they are all well disguised when you start styling."
Next, BobbyGlam name the heart braid as one of their top festival hairstyles. The romantic heart braid is a quick and easy style to create, but it has a lovely, intricate finish. BobbyGlam recommend fitting Triple Weft hair extensions to add thickness and length to this style.
Sammy says: "Oh, I adore the heart braid. It's super, super cute and very girly. Heart braids are perfect festival hairstyles for those of you who still like to leave some of your hair loose."
BobbyGlam have selected the waterfall braid as their final on-trend look for this season's festival hairstyles. BobbyGlam say that this is the quickest hairstyle to create for festival, but they say it is no less effective.
Sammy comments: "I often rock a waterfall braid as it's just so quick and easy to create. It's perfect for festival because it can have a real boho feel to it, but it's also a cute and girly look too, so you can still have a touch of glamour while you enjoy festival fun times."
Sammy continues: "I think there will be lots of girls wearing a waterfall braid this season; if you want yours to be a little different, you could customise it with some super cute hair accessories. Flowers would be perfect for that festival feel."
BobbyGlam full head Hair Extensions can be used to add thickness, length and fullness to the hair to create on-trend festival hairstyles for this season. BobbyGlam also have a range of hair accessories, hair care products, and hair styling tools which are all available via the website.