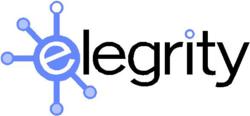 Since 2006, we have been dedicated to helping law firms globally achieve stellar business results with business process management implementations with LBMS™
Bridgeport, WV and San Francisco, CA (PRWEB) August 28, 2012
Steptoe & Johnson PLLC, a leading business law firm with 11 offices throughout the Appalachian Basin, announced today that it has selected Elegrity and its Law Business Management System (LBMS™) software suite to accelerate its business process improvement initiative.
Steptoe & Johnson, recognized for its strengths in energy, labor, employment and litigation, chose Elegrity for its extensive thought leadership in legal industry business process management and transformation.
"As a growing firm with 11 offices, we are constantly looking for ways to improve our efficiency and streamline our work," noted Richard Mackessy, Steptoe & Johnson's CFO. "After attending one of Elegrity's law firm business process transformation webinars, we saw how much more we could achieve by implementing business process transformation within our firm," continued Mackessy.
New Business Intake is the firm's first business process to be transformed. Subsequently, Steptoe & Johnson looks to leverage its investment in LBMS™ for optimizing other critical business processes. To date, Elegrity has transformed over 40 law firm business processes – a list that continues to grow.
"Since 2006, we have been dedicated to helping law firms globally achieve stellar business results with business process management implementations with LBMS™. When the downturn of 2008 hit the legal industry head-on, we knew we had to share our law firm business process management thought leadership to help law firms transform to face the new market pressures," states Joy E. Spicer, President & CEO, Elegrity, Inc.
"We have to be able to evolve and adapt our processes in order to provide the best value to our clients," Mr. Mackessy emphasized. "We are excited about our partnership with Elegrity and the expertise they will apply to our improvement initiatives."
Ms. Spicer concludes, "The true value of Law Firm Business Process Management comes from the long-term agility it provides when done right, and that's what we look to provide our clients. Our combination of law firm business and technology thought leadership in the realm of business process management uniquely positions us to do just that."
About Steptoe & Johnson
Steptoe & Johnson PLLC is a business-focused firm with particular strengths in energy, labor, employment, and litigation. It comprises over 230 lawyers resident in eleven locations throughout West Virginia, Ohio, Kentucky, Pennsylvania and Texas. Visit http://www.steptoe-johnson.com.
For more information, contact Betsy Spellman, Chief Marketing Officer, at (304) 933-8000 or by email: betsy(dot)spellman(at)steptoe-johnson(dot)com.
About Elegrity
Elegrity, Inc. has been delivering business and technology solutions to law firms globally since 1998. For more information, visit http://www.elegrity.com and the Elegrity Law Firm Blog at http://www.elegrity.com/law-firm-blog/
Legal Notices
Copyright © 2012 Elegrity, Inc. All Rights Reserved. 160 Pine Street, #720, San Francisco, CA. All trademarks, trade names, service marks, and logos referenced herein belong to their respective companies.
Press Contact
Tina Gregory
Office: 415-821-0900
info(at)elegrity(dot)com